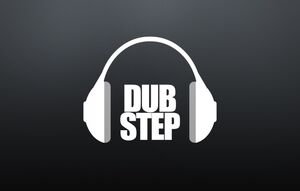 Dubstep is a genre of electronic dance music that originated in South London, England. It emerged in the late 1990s as a development within a lineage of related styles such as 2-step garage, dub, techno, drum and bass, broken beat, jungle, and reggae. In the UK the origins of the genre can be traced back to the growth of the Jamaican sound system party scene in the early 1980s. The music generally features sparse, syncopated drum and percussion patterns with bass lines that contain prominent sub bass frequencies.
The earliest dubstep releases date back to 1998, and were usually featured as B-sides of 2-step garage single releases. These tracks were darker, more experimental remixes with less emphasis on vocals, and attempted to incorporate elements of breakbeat and drum and bass into 2-step. In 2001, this and other strains of dark garage music began to be showcased and promoted at London's night club Plastic People, at the "Forward" night (sometimes stylised as FWD>>), which went on to be considerably influential to the development of dubstep. The term "dubstep" in reference to a genre of music began to be used by around 2002 by labels such as Big Apple, Ammunition, and Tempa, by which time stylistic trends used in creating these remixes started to become more noticeable and distinct from 2-step and grime.
Links To Peel
Peel was an early fan along with Hermeet Chadha of the genre and started playing it from 2003 until his death in 2004. At the end of 2004, listeners voted some of the dubstep acts in the 2004 Festive Fifty which included artists such as Digital Mystikz, DJ Distance and Plastician (formerly Plasticman). After Peel's death, Mary Anne Hobbs promoted the scene and played it often on her shows.
Mala of Digital Mystikz acknowledged Peel's contribution and visited Peel Acres to pick his favourite records from Peel's record collection as part of the Record Boxes: Mala theme. He also paid tribute to Peel after his death:
"In 2004 the late, great John Peel contacted me, saying he was enjoying my music. So I said I'll send him dubs. I did and true to his word he played them on his Radio 1 show. He would play Digital Mystikz exclusives. He was the first person to champion the sound on national radio, regardless of how underground it was. He also played some Digital Mystikz tunes which to this day have never seen a release. He also played tunes by others like Distance, Vex'd, Mark One as well as few more producers back then....So much was happening in 2004, so much music getting made so much love amongst a unit a producers/dj's and listeners. A community I was pleased to be a part of, it became my life."[1]
Festive Fifty Entries
External Links
Community content is available under
CC-BY-SA
unless otherwise noted.