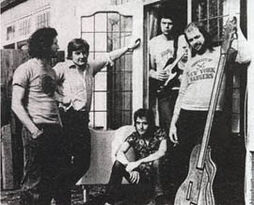 Ducks Deluxe are an English pub rock band of the 1970s, who continue to tour and record new material. Usually called "The Ducks" by their fans, they were known for up-tempo, energetic performances, and the successful careers of their members, after they disbanded. Martin Belmont, Sean Tyla and Ken Whaley, ex-members of Help Yourself, formed the band in September 1972 and recruited drummer Tim Roper. Nick Garvey (bass) replaced Ken Whaley at Christmas 1972 and Andy McMaster was added on piano in November 1973. Brinsley Schwarz briefly joined Ducks Deluxe before forming The Rumour and going on to achieve success with Graham Parker as Graham Parker & The Rumour. Nick Garvey and Andy McMaster later joined the Motors.
Links to Peel
The band recorded its first Peel Session in April 1974 after which Garvey left and bassist Micky Groome joined. Despite recording a second Peel Session in March 1975 their label RCA dropped the band, so they were reduced to issuing an EP, Jumpin on the French label Skydog.
Peel played one of their early 70's tracks on his 27 February 2003 show and commentated that 'if you like that, the early 1970s weren't a complete waste of time.'
Sessions
1. Recorded: 1973-06-12. Broadcast: 26 June 1973. Repeated: 16 October 1973
Coast To Coast / Pensecola Blues / Bring Back That Packard Car / Fireball
2. Recorded: 1974-04-23. Broadcast: 04 June 1974
Dancing Beat / Fireball / It's All Over Now / The Cannons Of The Boogie Night
3. Recorded: 1975-03-20. Broadcast: 27 March 1975. Repeated: 22 May 1975
Paris Nine / Jumping In The Fire / Something's Going On / Amsterdam Dog
Other Shows Played
15 May 1973: Boogaloo Babe (10" LP – Christmas At The Patti) United Artists
1975
1988
1996
2003
See Also
External Links
Community content is available under
CC-BY-SA
unless otherwise noted.