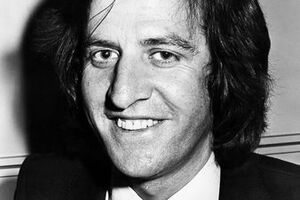 Edward Stewart Mainwaring (23 April 1941 – 9 January 2016), known as Ed "Stewpot" Stewart, was an English broadcaster. He was principally known for his work as a DJ on BBC Radio One (particularly the Saturday morning Junior Choice) and BBC Radio 2 and as a presenter for Top of the Pops and Crackerjack on BBC Television.
Stewart was born Edward Stewart Mainwaring, the son of a Treasury solicitor, in Exmouth, Devon, on 23 April 1941. He attended St Edward's School, Oxford, and his broadcasting career began in Hong Kong. While touring there as bass player with a jazz group, he gained a job on a local radio station as a sports commentator, then as an announcer and, finally, as a disc jockey. He remained at this station for four years. In July 1965 Stewart became a DJ on the offshore station Radio London and was its chief DJ by the time it closed on 14 August 1967. (Read more at Wikipedia)
Links to Peel
Ed Stewart was well established on Radio London by the time Peel joined the station in March 1967. He can be heard together with Peel on a short fragment of the 12 May 1967 show, in which they previewed the Beatles' LP "Sergeant Pepper's Lonely Hearts Club Band". Reportedly he allowed Peel to make most of the announcements between tracks, on seeing that JP was moved to tears by the record. Stewart can also be heard handing over to Peel at the beginning of the recorded extracts from the afternoon show of 01 July 1967.
Both DJs were among those hired by the BBC to launch the new Radio 1 service in autumn 1967, but their careers at the BBC took different paths. While Peel eventually became sole presenter of
Top Gear
in February 1968, Ed Stewart took over the station's
Junior Choice
show in April 1968 and became best known as its presenter, and then as host of the children's TV show
Crackerjack
. In 1968 he recorded a charity single, "I Love My Toys", a song originally recorded by Peel session favourites of the time
The Idle Race
. He also introduced
Top of the Pops
and did other work for Radio 1 before moving to Radio 2 in 1980. Much of his later work was for that station, including annual presentations of the Christmas editions of
Junior Choice
from 2007 to 2015. In December 1995, he was one of the guests on the episode of
This Is Your Life
devoted to Peel.
Mentioned On Shows
15 August 1979: Peel claims that when young women write to him requesting a photograph, he sends one of Ed Stewart "clutching a golf ball" instead.
External Links
Community content is available under
CC-BY-SA
unless otherwise noted.