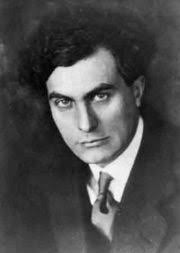 Edgard
(Victor Achilles Charles)
Varèse
(1883-1965) was a French-born composer and conductor who became an American citizen in 1926. He studied in Turin and Paris. From 1907 to 1915 he lived mainly in Berlin where he was active as a conductor: his compositions dating from this early period, which are in a romantic idiom entirely unlike his later work, are mostly lost or destroyed. He went to New York in 1915 and the culture shock of the new society he found himself prompted him to begin composing in a style which rejected traditional forms and used instead patterns of rhythms and accents. His first major orchestral work,
Amériques
(1918-21) used sirens and other non-musical instruments to convey the atmosphere of American streets: this, along with
Arcana
(1925-7) were championed by the conductor Leopold Stokowski and provoked hostility in their early performances.
Varèse founded the New Symphony Orchestra in 1919 to promote new music but resigned due to pressure to popularise programmes, returning to Paris between 1928 and 1932. Throughout his career he constantly experimented with unusual sounds and instrumental combinations, and began working with electronics and tape from 1953 onwards. In June 1917 he said of his musical outlook: "I long for instruments obedient to my thought and whim, with their contribution of a whole new world of unsuspected sounds, which will lend themselves to the exigencies of my inner rhythm."
Links to Peel
It is unlikely that JP ever programmed Varèse (unless he played a short extract on Night Ride), yet The Varese Record (a 1977 repress of recordings from 1950) was found in the Record Collection after his death. The LP contains sleeve notes by Frank Zappa, a Varèse acolyte whose album Lumpy Gravy betrays his influence. In addition, the sleeve of the Mothers of Invention LP Absolutely Free includes the quote, ""The present-day composer refuses to die!" (Edgar Varèse, July 1921)""
As a result of Zappa's namechecking of the composer, in the late 1960s he was mentioned in International Times, by the likes of Barry Miles, who wrote record reviews for the paper and had been interested in avant-garde jazz and modern classical music before discovering (via his friendship with Paul McCartney) pop and rock.
Festive Fifty Entries
Sessions
Other Shows Played
External Links
Community content is available under
CC-BY-SA
unless otherwise noted.