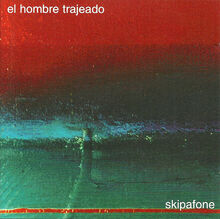 El Hombre Trajeado (it means 'The Man in the Suit' in Spanish) first met at Angel Lights Skatepark on the outskirts of Glasgow. From word go, there was an emphasis on collective composition, lead instruments eschewed in favor of a group sound, and downplayed vocals.
El Hombre toured with Sebadoh and also with The Delgados. John Peel was always on board, playing the first 7" and giving the band several sessions.
(Read more at Official Site.)
Links to Peel
"El Hombre Trajeado. I love saying that for some reason... cos I'm a twerp probably."
(John Peel, 01 January 2002)
On his 05 September 1999 (BFBS) show, Peel claimed El Hombre Trajeado had done an "unprecedented" three sessions for his domestic programmes the previous year. Although this was arguably an exaggeration, with the band's second session broadcast split between a single track live down the line from Maida Vale and the rest of the set hitting the airwaves at a later date, it does indicate the DJ's strong early support for the Glasgow four-piece. Debut album "Skipafone" (1998) arrived with a "GRACIAS" shoutout to "mr peel".[1]
Their third session, according to Ken Garner and the band's own count,[2] was recorded following the release of second album 'Saccade' (2001), which included contributions from Mick Cooke of Belle & Sebastian.[3]
Festive Fifty Entries
Sessions
Three sessions. No known commercial release.
1. Recorded 1998-03-01. First broadcast 09 April 1998.
Like Quicksand / Go Faster / Diary Extract / Sleep Deep
2. Recorded 1998-07-28. One track live from Maida Vale on 28 July 1998, rest of session first broadcast 10 November 1998.
Neoprene / Nearly A Week, Nearly Awake / Varispeed / Nofo
3. Recorded: 2001-01-24. First broadcast 13 March 2001.
Tracky B / Redial / Mu Manual / Dylar
Other Shows Played
1997
1998
1999
2000
2001
2002
See Also
External Links
Community content is available under
CC-BY-SA
unless otherwise noted.