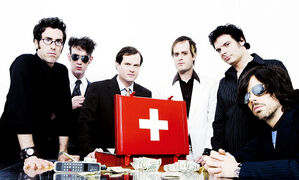 Electric Six is a six-piece American band from Detroit, Michigan, formerly known as the Wildbunch, who changed their name in 2001, due to pressure from the Bristol trip hop collective of the same name. Their style has been described as a brand of rock music infused with elements of "garage, disco, punk rock, new wave, and metal." The band met recognition in 2003 with the singles "Danger! High Voltage" and "Gay Bar", and subsequently released 14 full-length albums, two rarities albums, and a live album.
Links to Peel
Peel had an early copy of the single Danger! High Voltage in 2001, when the band were named Wildbunch. As Peel mentioned, the backing vocals of the track was sang by Jack White of the White Stripes, who came from the same area of the group. By the time Peel played the re-release of the single a year later he had forgotten all about the original, yet still recognised Jack White from the backing vocals. No other singles from Wildbunch or Electric Six were played on his shows, but he did make it one of his singles of the month in December 2002 (Peel's Record Box) and after his death it was later found out that he had a copy of the single in his special record box, which was a collection of 142 singles that he had kept in case there was a fire at Peel Acres.
Shows Played
2002
2003
External Links
Community content is available under
CC-BY-SA
unless otherwise noted.