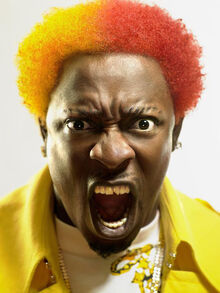 Oneal Bryan, better known by his stage name Elephant Man is a Jamaican dancehall musician and singer. He started out his musical career as a member of the Scare Dem Crew, later continuing as a solo artist. He was later characterised for several trademarks, such as his dyed yellow-orange hair, his unique low-key voice, and his stage performance, which included jumping and running, or even climbing on stage props and monitors. His acoustic trademark is a light lisp.
Links to Peel
Elephant Man has been criticised for his lyrics calling for violence against gay people. Peel noticed some of the homophobia lyrics of dancehall artists when on his 21 March 2000 show, after playing an Elephant Man track, he ceremoniously broke a dancehall compilation album called Virus, in protest of the homophobia of the track "No Dyke" by Foxy Cat.
Peel apologised on his 25 October 2001 show when listeners complained of an Elephant Man track played the previous night on his programme, called, Log On, whose Jamaican Patois lyrics called for stamping on and setting fire to a gay man. Despite this, Peel continued playing Elephant Man tracks on his shows, although he tried to avoid playing homophobic songs from the artist.
Shows Played
1998
1999
2000
2002
2003
2004
External Links
Community content is available under
CC-BY-SA
unless otherwise noted.