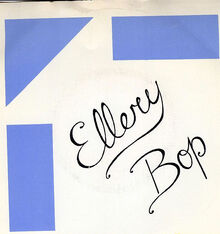 Ellery Bop were a 1980s indie rock band with Liverpool and Irish roots. The band toured infrequently (with Killing Joke) but recorded several sessions for the BBC with John Peel and Janice Long. A John Peel session was recorded live at the London I.C.A. The band claimed bands such as MC5, The Stooges, Ramones, Heartbreakers and The Clash as their influences.
(Read more at Wikipedia.)
Links to Peel
"An excellent band which seems to be by and large overlooked."
(John Peel, 07 December 1982, before playing three Ellery Bop singles in a row)
As part of the cluster of bands that emerged from Liverpool's Eric's club from the late 1970s, Ellery Bop benefitted from Peel's enthusiastic support for music from his favourite city, with three sessions recorded between 1981 and 1983, although the band never made an album or achieved the chart success of their contemporaries. The shifting lineups for their Peel sessions included Ian Broudie (previously Big In Japan), Rob Jones (Wah) and Tim Whittaker (Deaf School).
In autumn 1984, the band performed on the final night of a Peel-selected ICA Rock Week, with their set later broadcast on his show.
Festive Fifty Entries
Sessions
Three sessions. No known commercial release.
1. Recorded 1981-10-14. First broadcast 29 October 1981. Repeated 11 November 1981.
Fight And Desire / Ringing / Sharp Star Rising
2. Recorded 1982-12-08. First broadcast 13 December 1982. Repeated 18 January 1983, 15 February 1983.
Jihad / Imperial Way / 51st State / Guilt
3. Recorded: 1983-12-19. First broadcast 12 January 1984. Repeated 31 January 1984.
Above The World / Scream To Touch / Ourselves Alone / Twisted
Live
Red Front
One Girl
A Chance
Torn Apart
Other Shows Played
1981
1982
1983
1984
1985
1992
See Also
External Links
Community content is available under
CC-BY-SA
unless otherwise noted.