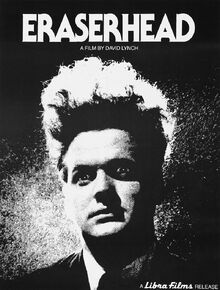 Eraserhead is a 1977 American surrealist body horror film written and directed by filmmaker David Lynch. Shot in black-and-white, Eraserhead is Lynch's first feature-length film, coming after several short works. The film was produced with the assistance of the American Film Institute (AFI) during the director's time studying there. Starring Jack Nance, Charlotte Stewart, Jeanne Bates, Judith Anna Roberts, Laurel Near, and Jack Fisk, it tells the story of Henry Spencer (Nance), who is left to care for his grossly deformed child in a desolate industrial landscape. Throughout the film, Spencer experiences dreams or hallucinations, featuring his child and the Lady in the Radiator (Near).
Links To Peel

Peel mentioned having seen the film three months earlier on his 06 February 1983 (BFBS) show, describing it as an extraordinary experience, unrelated to anything he had seen before. Recommending it to listeners, he then played a track named after the film, including soundbites, by Ralf Dörper.
For their debut Peel session broadcast on 16 May 1988, Pixies covered "In Heaven (Lady In The Radiator Song)" which is featured on the film's soundtrack.
External Links
Community content is available under
CC-BY-SA
unless otherwise noted.