Estonia (Estonian: Eesti), officially the Republic of Estonia (Estonian: Eesti Vabariik), is a country in the Baltic region of Northern Europe. It is bordered to the north by the Gulf of Finland, to the west by the Baltic Sea, to the south by Latvia (343 km), and to the east by Lake Peipus and Russia (338.6 km). Across the Baltic Sea lies Sweden in the west and Finland in the north. The territory of Estonia consists of a mainland and 2,222 islands and islets in the Baltic Sea,covering 45,339 km2 (17,505 sq mi) of land.
Links To Peel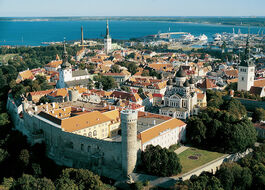 Peel travelled to the country as part of his visit to Russia and the Baltic states in 1992 in conjunction with the BBC World Service and the British Council. He visited Tallinn, where he met members of Röövel Ööbik, who regularly sent tapes of their music to him since 1988 after hearing his show on Finland's Rockradio. Peel described the group after meeting them as wonderful people on his 17 April 1993 show:
"They turned out to be really just wonderful people, the kind of people that you feel you've known most of your life and also clever enough to be able to be ironic in a language which is not their own."
Röövel Ööbik did a session for Peel's show in 1993 after some struggle to get to Maida Vale from their country with the help of Peel's brother Alan, who gave the band accommodation at his home. Peel also appeared on an Estonian TV documentary called Eesti Lood (Estonian Stories) in 2003 talking about the band.
Sessions
The following artists from Estonia recorded sessions for the John Peel Show:
Festive Fifty
See Also
External Links
Community content is available under
CC-BY-SA
unless otherwise noted.