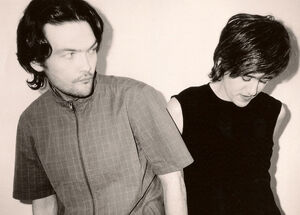 Everything But The Girl (sometimes referred to as EBTG) were an English musical duo, formed in Hull in 1982, consisting of lead singer and occasional guitarist Tracey Thorn and guitarist, keyboardist, producer and singer Ben Watt. They had four top ten singles and twelve top forty singles in the UK. Their biggest hit song "Missing" charted high in several countries and reached number two on the US Billboard Hot 100 in 1995. They are currently inactive, although vocalist Tracey Thorn hinted that they may perform again someday, but so far they have not performed publicly since 2000. Watt and Thorn are also a couple; they are very private about their relationship and personal life. For some time, it was not a publicised fact that they were a couple, or that they had married subsequently.
Links To Peel
Peel played many of their materials in the 80's and on his 14 March 2000 show, mentioned that he preferred their early work. In 1988, he was impressed with their Idlewild LP, that he played his favourite track from the album called The Night I Heard Caruso Sing. Post 80's material from the duo did not impress Peel and he largely ignored their later material on his shows.
Sessions
1. Recorded: 1984-08-18. Broadcast: 30 August 1984. Repeated: 17 October 1984. Repeated: 18 December 1984
Ballad Of The Times / Riverbed Dry / Never Could Have Been Worse / Don't You Go
2. Recorded: 1985-02-19. Broadcast: 27 February 1985. Repeated: 18 March 1985, 23 December 1985
Are You Trying To Be Funny / Trouble And Strife / Easy As Sin / Sean
Other Shows Played
1983
1985
1986
1988
2000
External Links
Community content is available under
CC-BY-SA
unless otherwise noted.