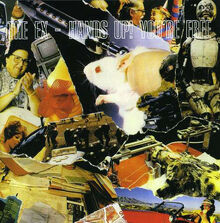 The Ex are an underground band from the Netherlands that formed in 1979 at the height of the original punk explosion. Initially known as an anarcho-punk band, they have since released over 20 full-length albums of musical experiments and numerous collaborations blending punk and free jazz with styles of folk music from all over the world.
Throughout the early 1980s The Ex went through many line-up changes before settling on the core quartet of G.W. Sok on vocals, Terrie on guitar, Luc on bass and Kat on drums. In the early 1990s, Andy Moor served double-duty with tourmates Dog Faced Hermans before becoming The Ex's permanent second guitarist in 1991.
(Read more at Wikipedia.)
Links to Peel
In October 1986, Peel led off his final show on VPRO, featuring only Dutch music, with 'They Shall Not Pass' by The Ex, proclaiming the track "one of the very best of the year". The band recorded three sessions for his Radio One show between 1983 and 1986, including before their association with Ron Johnson Records, a label the DJ strongly favored.
Festive Fifty Entries
Sessions
Three sessions, all released on Hands Up! You're Free, LP / CD, 1988, Ex Records EX 035. First two sessions also featured Jon Langford (Mekons, Three Johns, etc).
1. Recorded 1983-09-07. First broadcast 15 September 1983. Repeated 03 October 1983.
Crap Rap / Design For Living / U.S. Hole / Buy Buy
2. Recorded 1985-11-24. First broadcast 04 December 1985.
Choice / Uh-Oh Africa / Hands Up! You're Free / Butter Or Bombs
3. Recorded 1986-11-30. First broadcast 16 December 1986. Repeated 13 January 1987.
Knock / Ignorance / Business As Usual / A Job/ Stupid
Other Shows Played
1980s
1990s
See Also
External Links