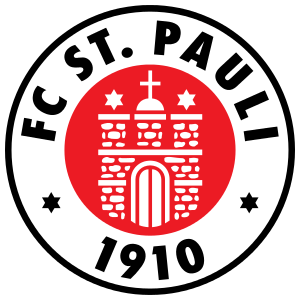 Fußball-Club St Pauli von 1910 e.V.
, commonly known as simply
FC St Pauli
, is a German sports club based in the St. Pauli quarter of Hamburg.
The football department is part of a larger sports club that also has departments in rugby (FC St. Pauli Rugby), baseball, bowling, boxing (FC St. Pauli Boxen), chess, cycling, handball, roller derby (Harbour Girls Hamburg), skittles, softball and table tennis and since 2011 Marathon. Until the end of 2013, the club also had a department in American football, but it was dissolved because it lacked the youth team required in order to hold a men's team. FC St. Pauli has 22,000 members as of 1 July 2015.
The men's professional football team dropped down to the Regionalliga in 2003, at that time the third highest football division in Germany and remained there for four years. In 2007, they won promotion back to the 2. Bundesliga and in 2010, they were promoted to the Bundesliga. Since the 2011–12 season, they have played in 2. Bundesliga, the second-highest division in Germany.
Links To Peel
On his 02 November 1996 show, Peel mentioned that of the highlights of a recent trip to Germany was a visit to see FC St Pauli:
"Another one of the highlights of my trip to Germany was a chance to go and see FC St Pauli in Hamburg. My sort of football team really, leftward leaning the spectators are supposed to be and also they have this as their signature tune, which makes them pretty fine."
The signature tune of FC St Pauli was from a group called Rubbermaids & Gegengerade Allstars doing a rock cover of the Kop Choir's 'You'll Never Walk Alone', which was played on his programme.
On his 07 October 2003 show, Peel mentioned that he and his wife, Sheila were wearing the t-shirts of FC St Pauli football club and told listeners that he was on the lookout for a new one ("XL...in black, preferably.")
Many international artists outside Germany played by Peel were supporters of the football club including Asian Dub Foundation, Andrew Eldritch, lead singer of The Sisters of Mercy and Georg Holm, the bassist of the Icelandic post rock band Sigur Rós.
Plays
External Links