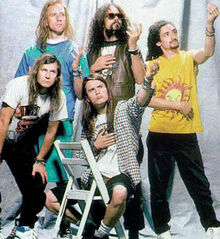 Faith No More (sometimes abbreviated as FNM) is an American rock band from San Francisco, California, formed in 1979. Before settling on their current name in 1982, the band performed under the names Sharp Young Men and later Faith No More. Bassist Billy Gould and drummer Mike Bordin are the longest-remaining members of the band, having been involved with Faith No More since its inception. The band underwent several lineup changes early in their career, along with some major changes later on. The current lineup of Faith No More consists of Gould, Bordin, keyboardist/rhythm guitarist Roddy Bottum, lead guitarist Jon Hudson and vocalist/lyricist Mike Patton. After releasing six studio albums, including their best-selling records The Real Thing (1989) and Angel Dust (1992), Faith No More officially announced their breakup on April 20, 1998. They have since reunited, embarked on The Second Coming Tour from 2009 to 2012, and released their seventh studio album, Sol Invictus, in May 2015.
Links to Peel
Peel seemed to have discovered the group in the late 80's and played several tracks from them, when they had Chuck Mosley as singer. He also wrote about seeing them perform live at the Bath Halls in Scunthorpe in the Observer, published on 31st January 1988, where he seemed to have enjoyed himself [1].
By the 90's, when the band had Mike Patton as the new singer, Peel was not keen on their music and was angry at the group when they threw his wife Sheila of stage at the 1993 Phoenix Festival, while she was helping him with moving equipment. On his 02 August 1993 (Ö3) show, Peel described the story of his wife being removed on stage and their music as utterly banal:
"Worst of the lot were Faith No More. They had mountains of equipment: you've never seen such equipment, and you feel that's part of it, and loads of grotesquely over-confident people operating the equipment. They even set up their own kind of little cordon sanitaire on the stage and threw my wife off, because she was helping me and they threw her off because...well, they just threw her off, you know, more of them than there was of her really, and I took an instant dislike to them, I must say. But their music, through all of this superfluous equipment, was so utterly banal. I'm not just saying this because they were unpleasant to my wife, I would have told you this anyway. Really, it's one of those things where you sit back and think, as you did in the days of bands like Yes and Emerson, Lake & Palmer, "What in god's name is it that anybody can see in this?" Just cliche-ridden piffle."
Shows Played
1988
External Links
Community content is available under
CC-BY-SA
unless otherwise noted.