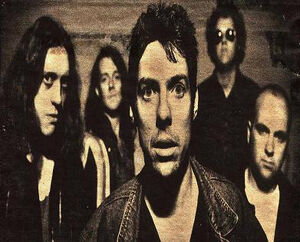 The Family Cat were a British indie band, formed by Paul Frederick (vocals/guitar), Stephen Jelbert (lead guitar), Tim McVay (rhythm guitar), John Graves (bass) and Kevin Downing (drums) in London. Three of the members came from Cornwall (Jelbert, McVay and Downing) and the other two came from other parts of southern England. The group were active between 1988 and the end of 1994. They also grabbed headlines in the 90's by naming one of their songs "Bring Me the Head of Michael Portillo". Michael Portillo was Chief Secretary to the Treasury and Secretary of State for Employment for the Conservative Party around the time the song was in production.
Links to Peel
Between 1989 and 1992, the band recorded three Peel Sessions at Maida Vale Studios, and were included in John Peel's Festive Fifty in 1989.
In 1991, when doing the NME Singles Reviews, Peel mentioned when reviewing the band's Colour Me Grey single that he was impressed with the band at Reading and was happy that the group brought back singing in the line of bands such as Microdisney, Teardrop Explodes, Echo & The Bunnymen and Wah!. Interestingly the Colour Me Grey track featured vocals from PJ Harvey.
Tim McVay from the band reviewed two football matches for Peel's programmes on 27 November 1993 and 05 March 1994.
Peel played the band's controversial track, Bring Me the Head of Michael Portillo in 1994 on his shows on various stations, including his own BBC Radio One show.
Festive Fifty Entries
Sessions
1. Recorded: 1989-09-10. Broadcast: 04 October 1989. Repeated: 18 December 1989
Remember What It Is That You Love / Octopus Jr / From The City To The Sea / Sandbag Your Heart
2. Recorded: 1990-06-26. Broadcast: 09 July 1990. Repeated: 14 October 1990
With A War / Gameshow / Fearless / Streamroller
3. Recorded: 1992-01-30. Broadcast: 20 March 1992. Repeated: 22 May 1992
Too Many Late Nights / Furthest From The Sun / Prog One / River Of Diamonds
Other Shows Played
1989
1990
1991
1992
1993
1994
22 July 1994: 'Bring Me The Head Of Michael Portillo (7 inch – Goldenbook)' Dedicated
01 August 1994 (Ö3): 'Bring Me The Head Of Michael Portillo (CDS-Goldenbook)' (Dedicated)
External Links
Community content is available under
CC-BY-SA
unless otherwise noted.