(This page is about the American band. For the electronic artist of the same name, see Fanny(2)).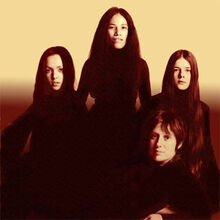 Fanny was an American all-female band, active in the early 1970s. The name Fanny is a Latin female name, meaning 'free'. However, the name has declined in use, as it is now a slang word referring in British English to a vagina, and in American English, buttocks. They were one of the first notable rock groups to be made up entirely of women, the third to sign with a major label (after Goldie & the Gingerbreads and the Pleasure Seekers), and the first to release an album on a major label (in 1970). They achieved two top 40 singles on the Billboard Hot 100 and released five albums.
Links to Peel
Peel obtained a copy of Fanny's debut LP in early 1971 and reviewed it in his Disc & Music Echo column:
A new dimension could be added to the flagging groupie scene by the appearance of an all-lady rock band called, naturally. Fanny. I stole a copy of their American LP from Warner Brothers offices last week and it's not bad at all. They play with as much power and drive as many male bands and write quite good songs too. I had hoped for something a little funkier but it's a good start..[1]
The band were energetically promoted by their record company; they made the front cover of Rolling Stone magazine, gigged widely on the early 1970s US rock circuit and visited Britain, making a couple of appearances on the Old Grey Whistle Test[2]. Peel played tracks from the group in the early 70's, although it is not known how often, as there are very few tracklistings of the early 70's on the Peel wiki site. Fanny broke up in 1975 and it seems that by the end of the 70's and beyond, JP rarely, if ever, played them. The tone of his review of their first album suggests that they weren't really among his major favourites, and although David Bowie praised the band in 1989,in a Rolling Stone interivew (quoted in the Wikipedia article on them), they don't seem to have influenced Peel's favourite female artists in later eras, like the Slits or P.J. Harvey. .
In the 00's, Peel played another artist who was also called Fanny, although this one was a musician, a former guitarist with the Exploited.
Shows Played
1972
External Links
Community content is available under
CC-BY-SA
unless otherwise noted.