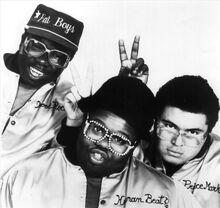 The Fat Boys are an American hip hop trio from Brooklyn, New York City, that formed in 1982. The group was briefly known originally as the Disco 3, originally composed of Mark "Prince Markie Dee" Morales (who died of a heart attack in 2021), Damon "Kool Rock-Ski" Wimbley and Darren "Buff Love" Robinson, who died of a heart attack during about with respiratory flu in 1995. The trio is widely known for using beatbox in their songs. The group opened doors for beatboxers like Biz Markie and Doug E. Fresh. The Fat Boys was one of the first rap groups to release full-length rap albums, along with Run-D.M.C., Whodini and Kurtis Blow. Beloved for their comedic, self-deprecating rhymes, the group released 7 studio albums, 4 of which went Gold by RIAA. They initially split in 1991, before reforming in 2008.
Links to Peel
Peel started playing the Fat Boys when they released their debut album in 1984 and thought the group were entertaining on his 14 July 1986 show when he mentioned seeing them perform in a video called Krush Groove. On his 15 September 1987 show, Peel claimed that he played their hit Wipeout from an imported LP on national radio before anyone else did. However, after 1987, the band started to become less successful and even Peel rarely played their material.
Shows Played
1986
1987
External Links
Community content is available under
CC-BY-SA
unless otherwise noted.