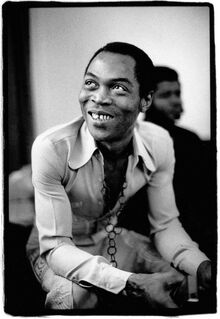 Fela Anikulapo Kuti (15 October 1938 – 2 August 1997), also professionally known as Fela Kuti, or simply Fela, was a Nigerian multi-instrumentalist, musician, composer, pioneer of the Afrobeat music genre and human rights activist. At the height of his popularity, he was referred to as one of Africa's most "challenging and charismatic music performers". Fela was born Olufela Olusegun Oludotun Ransome-Kuti on 15 October 1938 in Abeokuta, the modern-day capital of Ogun State in the Federal Republic of Nigeria, then a city in the British Colony of Nigeria, into an upper-middle-class family. His mother, Chief Funmilayo Ransome-Kuti, was a feminist activist in the anti-colonial movement; his father, Reverend Israel Oludotun Ransome-Kuti, an Anglican minister and school principal, was the first president of the Nigeria Union of Teachers. His brothers Beko Ransome-Kuti and Olikoye Ransome-Kuti, both medical doctors, are well-known in Nigeria. Fela is a first cousin to the Nigerian writer and Nobel laureate Wole Soyinka, the first African to win the Nobel Prize for Literature.
Links to Peel
In 1973 Ginger Baker returned to the UK from Nigeria, resulting in a BBC TV Omnibus documentary called 'Ginger Baker In Africa', which followed his travels across the continent to explore its music.[1] Around the same time, he gave Peel a series of African sessions recorded at his recording studio in Nigeria, which were broadcast on Sounds Of The Seventies as the 'Lagos Sessions' throughout July of that year. [2] One of these sessions included Fela Kuti, who had some airplay on Peel's shows in the early 70's.
In the 80's and beyond, Kuti's music rarely got played by Peel, possibly because of competition from southern African and soukous music dominating JP's African playlists. Despite his fame, Kuti wasn't a favourite of Peel colleague and fellow African music enthusiast Andy Kershaw, who remarked on one of his shows that a "Best of Fela Kuti" CD box set, at the time apparently due for release, would probably consist of an empty box.
Sessions
1. Recorded: unknown. First Broadcast: 24 July 1973
Other Shows Played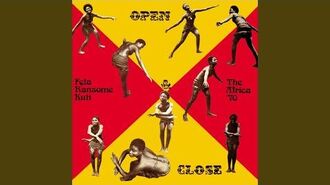 1974
18 July 1974: Open And Close (LP - Open & Close) His Master's Voice
External Links
Community content is available under
CC-BY-SA
unless otherwise noted.