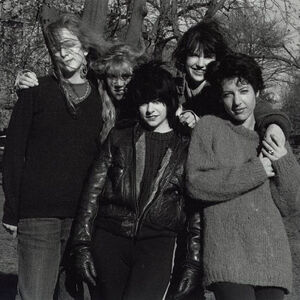 Fertile Virgin were an all female band from Massachusetts, USA. The members were Donna Sartanowicz, Julie Kantner, Leslie Dell'Elce-Grinley and Trisha Matthews. They released one single on Harriet Records of Fort Apache, Lucky Day, which Peel gave airplay to on its release in 1990. It appears to have been very much a DIY affair, as Kantner's father took the photo used on the sleeve. The track itself is rough-edged guitar rock with a melodic feel, in the mould of Dinosaur Jr..
Previously, Sartanowicz and Dell'Elce Grinley had appeared as part of the Fertile Virgin choir on a Big Dipper track, A Song To Be Beautiful, on the Homestead LP Craps. [1] Kantner and Matthews went on to found Twig: she adds, "Fertile Virgin was my first real band and for some of us our only band and we have largely grown up and moved on." [2]
Festive Fifty Entries
Sessions
Other Shows Played
External Links
Community content is available under
CC-BY-SA
unless otherwise noted.