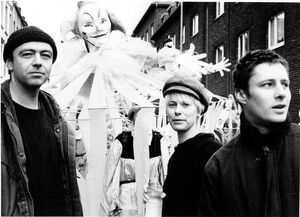 Fflaps were a Welsh post-punk group in the late 1980s and early 1990s, formed in Bangor, Wales. The band comprised vocalist and guitarist Ann Matthews, bassist Alan Holmes and drummer Jonny Evans. Between their formation in 1987 and split in 1992, they released three albums and an EP, recorded two Peel Sessions (in 1988 and 1990), and toured Europe extensively. The band's songs were in the Welsh language. Matthews and Holmes later formed Ectogram.
Links to Peel
Fflaps caught the ear of John Peel who let them record two sessions for his show. According to vocalist Ann Matthews on the link2wales website, she mentioned that Peel's producer, John Walters rang her to invite the band to do their first session:
"John Walters [Peel's producer] rang me up,' explains Ann. 'He didn't mention the language, but that Peel really liked the EP Anhrefn [Records] put out. We were a little naughty because we did a cover of Peel's favourite Slits song… it worked a treat."[1]
Two years later, the band were invited to do their second session, by which time John Peel had decided he didn't really like their new material very much (it was producer John Walters that offered them their second session). Between the two sessions, the group had toured extensively around the UK and mainland Europe.
Sessions
1. Recorded: 1988-03-13. Broadcast: 04 April 1988. Repeated: 20 April 1988, 20 December 1988
Pethu Piws / Llosg Llech / Y Dyn Bun / Blodyn Tatws
2. Recorded: 1990-06-19. Broadcast: 01 August 1990
Malltod / Rhowch Hi I'r Belgwyr / Hyll Eto / Arwyr Duwiol
Other Shows Played
1987
1988
1989
Other
External Links
Community content is available under
CC-BY-SA
unless otherwise noted.