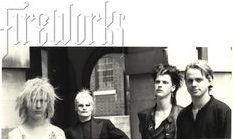 Fireworks emerged from the ashes of respected English punk band Charge in 1982 after Stu P Didiot had left to work on his own project. The line-up was: Moose: Vocals, Stevie Savage (Steve Norris): Guitars, Martyn Watts: Drums, and David Griffiths: Bass. The band played around the UK at venues including the original Batcave, and completed several tours. They were managed by Saul Galpern, who later went on to head Elektra records, but failed to find commercial success and after disbanding amicably, all went on to form their own careers with various other bands and artists.
Links To Peel
The band recorded one John Peel session.
Festive Fifty Entries
Sessions
1. Recorded: 1983-09-12. Broadcast: 22 September 1983. Repeated: 12 October 1983
Man Of The Times / Second Eleven / Shall We All Dance
Other Shows Played
None known from current tracklistings. Peel played releases by a band (or bands) of the same name in the mid-1990s.
External Links