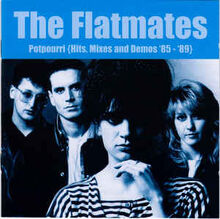 The Flatmates, part of the mid-1980s British indie pop boom, were part of The Subway Organization, a Bristol record label formed by Martin Whitehead, who was also guitarist and main songwriter for the band.
Following the band's formation in 1985, singles such as "I Could Be in Heaven", "Happy All the Time" and "Shimmer" established the band as a successful indie band, but the Flatmates disbanded in early 1989 before releasing a proper studio album.
The band's core members were Martin Whitehead (guitar) and Debbie Haynes (vocals). Initially, the band also included Kath Beach (bass guitar) and Rocker (drums). Prior to recording their first single, Beach left the band and was replaced by Sarah Fletcher.
The band were reformed by Whitehead in 2013.
(Read more on Wikipedia.)
Links to Peel
The Flatmates were closely associated with the C86 indie scene strongly supported by Peel, recording two sessions for his show and enjoying two Festive Fifty entries during the DJ's lifetime. A good proportion of their initial run of singles in the 1980s received airtime on his programmes.
In fact, Peel had come close to witnessing the band's first gig, supporting Half Man Half Biscuit at Bristol's Tropic Club on 21 Jan. 1986. As later recounted by Martin Whitehead, the DJ:
… arrived too late to see The Flatmates. When he did turn up, Deb gave him a badge and told him he "didn't miss much, cos we weren't very good anyway". A message which was relayed to all his listeners the following week. Thanks Deb.[1]
The DJ also played numerous releases by other bands on Whitehead's Subway Organization label,[2] including session artists Shop Assistants and Soup Dragons, as well as the Rosehips, whose lineup included original Flatmates drummer Rocker, who also recorded with Flying Saucer Attack.
After Peel's death, a reformed Flatmates achieved a third official Festive Fifty entry, on the annual listeners' chart of Dandelion Radio, which featured Rocker among its roster of DJs.
Festive Fifty Entries
Sessions
Two sessions only. No known official release. In 1988, however, Strange Fruit did release The Janice Long Session (12").
1. Recorded: 1986-09-14. First broadcast: 24 September 1986. Repeated: 13 October 1986.
Happy All The Time / Thinking Of You / Love Cuts / Tell Me Why
2. Recorded 1987-09-06. First broadcast: 16 September 1987. Repeated: 05 October 1987, 24 November 1987.
Shimmer / Sportscar Girl / You're Gonna Cry Too / Barbella Blue
Other Shows Played
1986
1987
1988
See Also
External Links
Community content is available under
CC-BY-SA
unless otherwise noted.