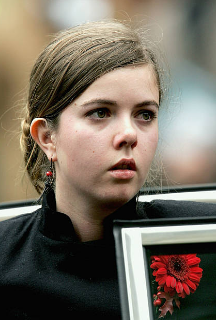 Florence Victoria Shankly Ravenscroft (born 30th April 1982), known as Flossie, is the youngest of Peel's children. Named after Peel's nanny, Florence Horne, not much is known about Flossie's private life, apart from her achieving a 2:1 degree in English at the University of Liverpool in 2004 [1][2] and that she also enjoyed horse riding: she once kept a horse at Peel Acres, until she left for university, when Peel decided to use the shed for keeping his extra records.[3] Her first attended gig was seeing the Wedding Present at the Cambridge Corn Exchange on 3 December 1992 [4]. On 05 July 2001 she saw Belle & Sebastian in Ipswich.
Marking her twentieth birthday on 30 April 2002, Peel played the only song he knew with Florence in the title (a doo wop single recorded in 1957 by the Paragons).
Peel mentioned on his December 2002 (FSK) show that his daughter Florence was going out with the guitarist of The Vaults.
She deputised for mum Sheila to introduce the Pig's Big 78 on at least two occasions in 2004 [5][6].
In reports published some years ago on a now defunct website, her mother Sheila Ravenscroft mentioned that Flossie was planning to travel to Japan to be an English teacher at a school. Since then, there have been no reports on her activity.
The Cuban Boys in 1999 released a song called Flossie's Alarming Clock, named after her Japanese alarm clock [7], which was sampled on the record. The track made it to number 28 in the 1999 Festive Fifty.
Mentioned In Shows
1982
03 May 1982: (JP: "Since I last spoke with you I've become a father for the fourth time - Florence - we haven't decided on the rest of the names yet and she's bound to be called Flossie I rather suspect. I've been trying to find records about Flossies and Florences but without any success although I've got one which I played actually about a month ago by the Paragons called 'Florence' but it's such an awful recording I don't think it would be entirely fair.")
04 May 1982: Paragons: Florence. Peel plays the Paragons track as a tribute to the latest addition to the family, Florence
03 June 1982 (BBC World Service): Peel mentions that the Room's Things Have Learnt To Walk That Ought To Crawl track does not refer to his latest addition of the family, baby daughter, Florence, who was recently born. He describes her as very small and breathtakingly beautiful.
1986
24 February 1986: Peel mentions that he saw his four year old daughter Flossie painting and asked her what it was, thinking that she may say it is her dad or Goldilocks or a Robin, but instead said it was a painting of 'sick yukk'.
29 April 1986: Peel mentions it is Flossie's birthday tomorrow.
06 October 1986: (JP: 'That's New Order from the LP, Brotherhood, the track Weirdo and a strange weekend for me because my four children were in a particularly fowl mood most in the weekend. The high point coming when our Florence, who is four, was sitting in the garden and I went out to talk to her, thinking I must talk to my amusing child, and she looked at me and said, I like you Daddy but not very much, and then crushed, I returned to listen to records')
1987
14 January 1987: Peel mentions that the Pig rang to say that Flossie, their daughter can't sleep, and is listening to the show, whilst having a bedtime story told to her by the Pig. He then dedicates a record to her by playing Pop Will Eat Itself.
06 April 1987: (JP: 'And the Smiths as you know have already recorded a song about William and the new one is about Sheila, which is the Pig's real name, so there is only only Thomas, Florence and Alexandra to go, here it is')
24 August 1987: Peel mentions going to a Madonna concert last Thursday night at Wembley with his family and says two of his youngest (Florence & Tom) slept.
Peel 074 (BFBS): (JP: 'In case I sound a little tense this week, it's because I spent a lot of the time trying to persuade my wife that we ought to have a fifth child, because the four previous children, I should explain, are called William Robert Anfield, Alexandra Mary Anfield, Thomas James Dalglish, and Florence Victoria Shankly. I was thinking, we've got to have a fifth one so that we can put Barnes in there somewhere, because after his performance against Everton the other week, the man has got to be immortalised in some way.')
28 September 1987: (JP: 'This is a record which could easily be recorded by William 11, Alexandra 9, Thomas 7 and Florence 5. In fact it's by the Angry Samoans, but it applies at our house, My Old Man's A Fatso')
22 December 1987: (JP: 'The next two are for our Flossie, should she be still up, which is unlikely. She said something a couple of days ago, of great profundity, I thought. I know there's nothing more tedious than fond fathers who repeat what their children say and so forth, but that's exactly what I'm going to do. She was talking to Al Martin, who's helping out at home at the moment, and, not being entirely sure of the party line, Al didn't know quite what to say when Flossie brought up the subject of death with her, and wanted to know a bit about death. She asked what happened to good people when they died, and Al said, rather nervously, "I think they go to heaven", and Flossie said, "Oh, that means that bad people go to London." I can sympathise with that, I must say.')
1989
1990
1991
02 June 1991: JP tells us he has just phoned home to his wife Sheila to see if she is OK and Florence answers, JP asks if her mum is in and Florence replies "she's not here, Good Night!" JP presses for further information, where is she, and the reply is "she's gone to the Wedding Present gig, Good Night". JP said what's going on you should be in bed, and the reply is another "Good Night!".
01 July 1991 (Ö3): Daughter Flossie is in the vicinity, and when asked her opinion on a couple of tracks, merely says, "OK", to John's disappointment.
09 August 1991 (BFBS): (JP: 'Goodnight Said Florence, I play this because I like it, not because I've a daughter called Florence, I suppose that plays it's part) Goodnight Said Florence: Blu (12" - Ov / Blu) Different Class
1992
19 January 1992: (John reveals that his daughter Flossie was easily able to identify this track) George Lam: 'Thundercats Are Go (unknown source - a CD from Hong Kong)'
04 December 1992: John mentions that he (and the rest of his family) saw the Wedding Present at the Corn Exchange in Cambridge last night. This was his daughter Flossie's first ever gig.
19 December 1992: (JP: 'If you were listening to last night's programme, you'll be horrified to hear that I'd encouraged my children to choose a record to play in these holiday spectaculars. This is Flossie's choice.') Sultans Of Ping F.C.: 'Veronica (12 inch)' (Divine)
25 December 1992: (JP: 'In a couple of minutes' time, it'll be Flossie's choice, which may not play terrifically well, as it appears to be covered in yoghurt, but we'll see.') Sultans Of Ping F.C.: 'Riot At The Sheepdog Trials (12"-Veronica)' (Divine)
1993
1994
1995
1996
17 February 1996: Peel plays the second of the Bluetones called The Fountainhead, dedicated to Flossie.
21 December 1996: Super Furry Animals, 'God Show Me Magic (CD-Fuzzy Logic)' (Creation) (JP: 'Thanks to my daughter Flossie for lending me her copy of the LP 'Fuzzy Logic' so that I could play that to you. Also thanks to Flossie and the Pig for putting the Festive Fifty together this year: they did all of the voting, sorted out all of the votes, added up all of the scores and so forth, and have come up with the results which I'm now about to display to you. A quarter of them this evening, and then another quarter tomorrow night between 8 and 10, and then the same next weekend. It'll all be terrifically exciting.')
21 December 1996: (JP: 'At number 38, another record borrowed from our Flossie's collection.') Ash, 'Oh Yeah (CD-1977)'(Infectious)
1997
1998
08 January 1998 (BFBS): DJ Vadim: 'Conquest Of The Irrational (12")' (Ninja Tune) a wrong speed moment)(JP: 'I want you to know that, while that record was playing, I was getting the next record ready and broke my fingernail in the process. And yet, I carry on with the programme: it's a very British thing to do, I think. They get so brittle at this time of year, I find. And because that was a 4'45" long record, I was able to go to what is called in our house Daddy's Room, which is the room in which I do the bulk of my work, and when I got in there, Flossie, 15, was in there looking through my stuff. And she just looked up at me when I went in and said, "Get out of my room!" I just thought to meself, I'd love to have been able to speak to my dad like that.')
23 November 1998 (BFBS): (JP: 'Tonight actually, when I go into London to do my programmes for the BBC, we've got a session from R.E.M.. They're not a band whose records I play a lot, but you know when they come up on the radio I quite like 'em, and I saw them on television the other day and they looked really good, and our Flossie's always been really keen on them, and they are of course one of the best-selling bands on the planet. They actually got in touch with us and said, "We'd really like to do a Peel session," so I'm quite knocked out with that.')
03 December 1998: (JP: 'This is the life, eh? Our Flossie's brought round glasses of red wine to the toiling field hands, and pizza is in the oven, the dogs are curled up at my fet. At least, they're not but would be if I wanted them to be.')
29 December 1998: (JP: 'I'll paint a sort of portrait now of what goes on in the course of these programmes when they're done from here at home. You'd imagine of course that all my family would be gathered around, you know, willing daddy onwards and thinking, "What a great man he is", "isn't it wonderful that you can do these programmes from home?" They're all watching TV in another room, just a few steps away, and Flossie and some of her unsuitable mates are out in a shed in the garden-god alone knows what they're up to. But by and large, apart from Anita the producer, who's walking backwards and forwards in a rather neurotic manner behind me, looking at watches, not much goes on here other than my playing you records.')
1999
2000
2001
2002
2003
January 2003 (FSK): Peel is in a subdued mood, as his daughter Florence has returned back to University after the Christmas holidays.
22 January 2003: Peel mentions that Florence will be visiting Blackpool that weekend.
26 August 2003: Peel says he has "a lot of time" for Kylie Minogue, as "she was very nice to our Flossie on a number of occasions".
2004
External Links
Community content is available under
CC-BY-SA
unless otherwise noted.