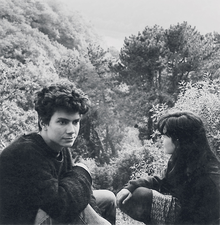 Flying Saucer Attack
is an English experimental space rock band formed in Bristol in 1992 and led by songwriter David Pearce. Rachel Brook (now Rachel Coe) of
Movietone
was a member during the band's early incarnation: other musicians contributing to the group's recordings and life performances included Rocker (ex-the
Flatmates
), Matt Elliott (aka the
Third Eye Foundation
) and Sam Jones (of Crescent).
Drawing on sources such as krautrock, folk and dream pop, the group referred to their DIY sound as "rural psychedelia" and were associated with bands of the contemporary post-rock and shoegazing scenes. FSA were able to create a small but enthusiastic fanbase, and were notable for recording most of their output at home, avoiding recording studios.... (Read more)
Links to Peel
JP apparently met Pearce in 1985 when he was starting out in the band Ha Ha Ha, politely explaining to them that their EP Up And Down was just too shambolic for radio play. [1] However, he played FSA's Soaring High on its first release until, as he claimed, he found out the band were from Bristol and stopped playing it. Then he relented and aired Wish and its B-side: they were constant features of his show until they split up in 2000. Their name may derive from the Rezillos song of the same name, played on occasion by JP.
On the occasion of FSA's 2015 reunion, Dave Pearce recalled John's influence on their early career:
"We recorded a couple of songs and that was going to be that. But then Simon who ran Heartbeat Records used to come into the shop to buy all these records by American lo-fi bands of the period. We had an account with Greyhound and Cargo was just starting up, and they were getting in all this stuff from America. There was this huge wave of homemade American singles by The Grifters and The Mummies… Superchunk. Those kind of bands. I really liked them, they were all rather wonderful. John Peel was playing quite a bit of it and Simon would come in, and he'd been re-energised by hearing this stuff on Peelie." [2]
The group went on to record two Peel sessions (the second of which has never seen an official release), although their sound never persuaded listeners to vote for any of their tracks in sufficient numbers to guarantee a Festive Fifty entry. Peel interviewed the band on the repeat of their first session broadcast.
Festive Fifty Entries
Live
Soaring High
Wish
Standing Stone
Sessions
Two sessions: #1 available on Chorus (Domino).
1. Recorded: unknown. First broadcast: 21 May 1994. Repeated: 22 April 1995
Always / Popol Vuh III / Light In The Evening / Feedback Song Demo / Feedback Song
2. Recorded: 1996-03-01. First broadcast: 05 April 1996. No repeats.
Heartbeat / Guitar Blues / Jeff Mills Blues / I Can Take You To The Sun / Resolution Island
Other Shows Played
1994
1995
1996
1997
1999
2000
Others
External Links
Community content is available under
CC-BY-SA
unless otherwise noted.