What is "folk", anyway?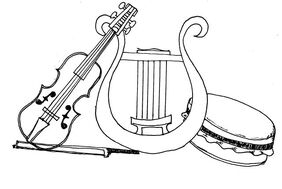 "Man, all music is folk music. You ain't never heard no horse sing a song, have you?"
(Louis Armstrong, as quoted by John Walters in Peeling Back The Years [1])
In 1999, John Peel was persuaded by the Smooth Operations company to present a series of six documentaries on Radio Two, As I Roved Out: A Century Of Folk Music, tracing the previous 100 years of folk music, focusing mainly on that from the British Isles. In the first programme, Peel remarked that he had always had "a soft spot" for folk music, and most episodes in the series have contributions from artists previously featured in session or on record on his programmes. Yet others heard in the series were never played on his shows at all - like Ewan MacColl, who, to Peel's surprise, turned out to be a favourite of his hero Captain Beefheart.
In fact, the main problem in trying to establish how much folk music Peel played on his shows is defining what qualifies as "folk". In Britain and the USA it is a notoriously vague term, which can refer to traditional music handed down over generations (which was the line taken by the As I Roved Out series), singers or singer-songwriters accompanying themselves on acoustic instruments, or - as so often in the USA - vernacular music forms, as opposed to the commercial songwriting of Tin Pan Alley. Even the young Elvis Presley, before he went to Hollywood, was referred to by some, like the jazz critic Rudi Blesh, as a "folk singer", as his early rock'n'roll records were a mixture of pure country music and blues. Another Peel favourite, Lonnie Donegan, started his career as a member of jazz groups but the skiffle music which made him famous drew heavily on American folk and blues traditions. Controversies about what was and wasn't true folk music were a feature of the second half of the twentieth century, but Peel, characteristically, stayed out of them and simply played whatever folk-influenced music he liked.
In 1996 Peel condemned the use of "marketing labels" like "folk" and compares Britpop to folk music saying "..the stuff Oasis and Blur are doing now, particularly Blur, is folk music because it's music by the folk.." adding, "stuff that's described as folk music is done by sociology lecturers at Leicester Polytechnic".[1]
Folk in Peel's early career
Folk was a part of the popular music scene when Peel started to buy records, and although the more popular folk performers of the early 1950s sang in a middle-of-the-road style, he was already aware of specialist labels like Topic, claiming to have bought his first record on the label in 1954. He was especially interested in blues, then viewed by many as a pure, uncommercial folk form, and when he moved to the USA it was his knowledge of the blues which got him his first radio job on the Kat's Karavan show on WRR in Dallas. However, he seemed less interested in the urban folk revival, which at the time was peaking in popularity in the US. Much of it was commercialised, middle of the road folk-pop (as satirised in the film "A Mighty Wind") which would hardly appeal to Peel. There was no US equivalent of Britain's grass-roots folk club movement, which was open to all - with the exception of a few bohemian enclaves in major cities, like New York's Greenwich Village. Instead, colleges and universities provided audiences for more authentic folk music styles, and Peel, who had chosen not to go to university, found his lack of a "college degree" a social handicap in the US (as he points out in Margrave Of The Marshes, ref.) and therefore had little contact with the American folk music revival.
The US folk boom ended with the "British Invasion", with the Beatles. the Rolling Stones and other British performers inspiring many American folk musicians to switch from folk to pop and rock - most notably Bob Dylan, who alienated some fans by "going electric" but maintained he was still playing folk music. Others, like the Byrds and the Lovin' Spoonful, enjoyed chart success and were on the playlists of the pop stations Peel worked for during his years in the US. By the time Peel returned to the UK in 1967, "folk-rock" was an accepted term in the US. Much of the music he played on the Perfumed Garden, on the early years of Top Gear and on Night Ride could be described as "contemporary folk". Bob Dylan was a favourite of the Perfumed Garden audience; Peel also played album tracks by Tim Hardin and Tim Buckley on the show, and a listener sent him copies of rare LPs by Jackson C. Frank and Shawn Phillips. Some of his favourites of the era such as Simon and Garfunkel, Donovan, the Incredible String Band and Pentangle had folk club roots, although they were sometimes disapproved of by those who preferred traditional or middle-of-the-road folk (which was often heard on BBC radio folk shows like Country Meets Folk or My Kind Of Folk). He also admired singer-songwriters such as Leonard Cohen, Joni Mitchell and, from the British folk scene, Roy Harper and Al Stewart.
The 1970s and the rise of traditional folk
A few traditional music performers appeared on Night Ride - the Young Tradition, Shirley and Dolly Collins, Tim Hart and Maddy Prior) - but it was Fairport Convention's "Liege and Lief" album (previewed on a 1969 Top Gear session), which fused traditional song and electric rock instrumentation and set in motion a renewed interest in traditional British, as opposed to American, folk. Other British folk-rock bands - among them Steeleye Span, Trees, the JSD Band and The Albion Country Band - followed, with LPs and sessions for Peel, and traditional folk music became an integral part of his playlists throughout the 1970s. He also continued to feature his favourite contemporary singer-songwriters, like Loudon Wainwright III, Bridget St John and Michael Chapman, all of whom had played the folk club circuit, but it was Bob Harris, rather than Peel, who concentrated on the singer-songwriter boom of the 1970s in his programmes of the time.
In the second half of the '70s a new wave of traditional folksong interpreters emerged from the club scene; artists such as Dick Gaughan, Nic Jones, Martin Simpson and June Tabor did sessions for Peel's programmes, as did Tony Capstick, who, apart from being a folk club performer, introduced BBC Radio 2's Folkweave show for much of the 1970s. Irish folk artists such as Horslips, the Chieftains, Planxty and Na Fili appeared on Peel's show, as did English vocal groups like Swan Arcade and the Watersons. Martin Carthy, England's leading folk club singer, became a regular session guest. But when the punk era began, Peel only played the occasional folk track; there was a decline in interest in folk music in the 1980s, with only a few groups like the Pogues and The Men They Couldn't Hang fusing folk with the punk ethos.
The 1980s and beyond: Bragg, Kershaw and another folk revival
The arrival of Andy Kershaw on Radio 1 in 1985 gave a boost to folk, now beginning to be called "roots" or "world" music, about which Kershaw was enthusiastic and knowledgeable. Former Peel session regulars like Richard Thompson, Dick Gaughan and Martin Carthy now did sessions for Kershaw's shows, as did newer artists like Eliza Carthy and Sharron Shannon - both of whom were also played by Peel. Kershaw also featured a wide range of American folk styles, from bluegrass and "new country" to the blues in all of its urban and rural varieties. By the late twentieth century the traditional/contemporary folk divide was obsolete in the US, so this area of music became known as "Americana".
In the 1980s Peel also played 10,000 Maniacs, with their updated folk-rock style, and Billy Bragg became a mainstay of the show. Bragg later related that he first heard the Sex Pistols when he tuned into Peel's show in late 1976 to hear tracks from a new LP by Northumbrian folk dance band the High Level Ranters.[2] He later became involved with the legacy of Woody Guthrie and the Greenwich Village folk scene of the early 1960s, and Peel, never a big fan of Woody Guthrie and his disciples, played a few tracks by the folk pioneer as a result. In the 1990s and 2000s folk became fashionable again with a new generation of listeners and this was reflected in Peel's shows, in plays of artists such as Bert Jansch and the Incredible String Band, new sessions by the likes of June Tabor, and sessions by new artists with a folk/acoustic background, such as Cat Power, Neko Case, Lianne Hall and especially Nina Nastasia, who did five sessions for his shows. He also continued to play tracks by his long-time favourite John Fahey, whose guitar style had strong folk roots, as well as reissues of the old blues and country 78s which had inspired Fahey, Dylan and many others.
Yet, for all his interest in folk music, it would be hard to see Peel as a "folkie" in the same way that he was a fan of blues, rock'n'roll, country or reggae. Even if he did introduce some folk performers at gigs in the late 1960s, there is no evidence in the Gigography of him attending folk clubs. (However, it does list him as being in Southend in October 1974, to host 'Folkeast 74', a festival organised by the English Folk Dance and Song Society, with a bill made up entirely of traditional folk musicians and dancers.) He seldom recommended the BBC's folk radio shows to his listeners, presumably because much of the music played on them was not to his taste. Yet he liked the Carthy-Waterson family enough to visit them for an episode of the TV series Sounds Of The Suburbs [3], and after his death June Tabor paid tribute to him, in a video recorded for the John Peel Record Collection project.[4]
See also
Links
↑ Buckley, D. "Kraftwerk: Publikation" (2015), chap. 1.6. Note: Buckley mentions in the Acknowledgments that Peel quotes in the book come from interviews he did with Peel about David Bowie.
Community content is available under
CC-BY-SA
unless otherwise noted.