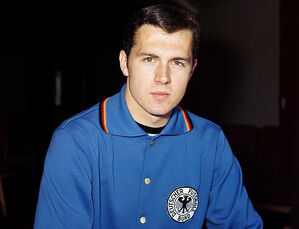 Franz Anton Beckenbauer (born 11 September 1945) is a German former professional footballer and manager. Early in his playing career he was nicknamed Der Kaiser ("The Emperor") because of his elegant style, dominance and leadership on the field, and also as his first name "Franz" is reminiscent of the Austrian emperors. He is widely regarded to be one of the greatest players in the history of the sport. A versatile player who started out as a midfielder, Beckenbauer made his name as a central defender. He is often credited as having invented the role of the modern sweeper or libero.
Links To Peel
Beckenbauer not only played Football, but also sang, where he released a few singles in the 60's. Those singles appeared on the Bend It compilation football albums, which Peel played tracks from on his show during the early 90's.
Shows Played
1993
External Links
Community content is available under
CC-BY-SA
unless otherwise noted.