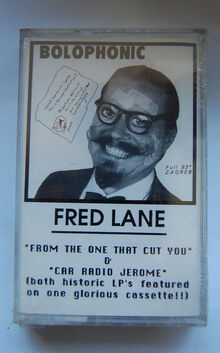 Tim R. Reed, known by the stage name Reverend Fred Lane, is an American Alabama-born singer, songwriter, and visual artist who released two relatively obscure yet critically appreciated albums in the 1970s on Say Day Bew Records, later re-released in the 1980s on the Shimmy Disc label. These albums explored various traditional genres of American music such as jazz, country, and big-band swing, but infused with improvisational experimentations and Dadaist free-associative lyrics.
His stage persona displayed a devilish grin, goggle glasses, a well-oiled goatee, and various band-aids applied to his cheeks and scalp. His backband band were called His Hittite Hot Shots and he wore a black Tuxedo coat over boxer shorts. He authored comic books and chapbooks including "Liquid Basketballs" and "Naked Women Overthrow the Government Quarterly." Reed left the music industry in the late 1980s to devote his career to mobile sculptures.
Links To Peel
Peel nominated the artist's Car Radio Jerome album as one of his 1988 LPs Of The Year in the Observer published on 11th December 1988. In the article, he described the album as 'clever, funny and just plain odd' and compared it to exhibiting a 'Vivian Stanshall-like gift for the ear-catching phrase.
Shows Played
1989
1994
2001
External Links