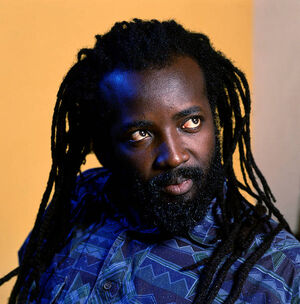 Freddie McGregor
(born 27 June 1956, Clarendon, Jamaica) has been variously a singer, musician and producer. His music career began when he was seven years old. In 1963 he joined with Ernest Wilson and Peter Austin to form The Clarendonians, and began to record for the Studio One label. He was only seven years old at the time and was known as 'Little Freddie'. He was also a member of the Generation Gap.
McGregor converted to Rastafari in 1975. He is a member of the Twelve Tribes organisation. He worked with producer Niney the Observer during the late 1970s and early 1980s, and in the same period was part of the resurgence of Studio One. His popularity soared in the early 1980s with the release of "Bobby Bobylon". Other popular hits of McGregor's include "Big Ship", "Push Comes to Shove", "Just Don't Want to Be Lonely" (a top ten hit in the UK), and "I Was Born a Winner" as well as cover versions of many early reggae standards. He has also worked with producers Junjo Lawes, Linval Thompson, and Gussie Clarke. McGregor has also recorded as a drummer with artists such as Sugar Minott and Judy Mowatt....(Read more) AllMusic called him "a key figure in the early ska and rasta roots scene" and "one of reggae's most durable and soulful singers."
Links to Peel
McGregor appears to have made his first appearances on Kat's Karavan during the early 80s but from then on featured regularly in Peel's playlists. As with many other reggae artists espoused by John, he never made the Festive 50 and his two UK hits, 'Just Don't Want To Be Lonely' and 'That Girl (Groovy Situation)', do not seemed to have been aired at all by JP.
Festive Fifty Entries
Sessions
Other Shows Played
1980s
1990s
2000s
Others
External Links
Community content is available under
CC-BY-SA
unless otherwise noted.