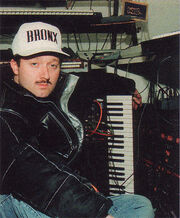 Frederick Schmid (born 29 March 1963), better known by his stage name Freddy Fresh, is an American DJ, musician, and electronic music producer. Fresh has recorded for over 100 independent record labels, including major labels Sony UK, Virgin, BMG UK, and Harthouse Germany. He is also founder of the record labels Howlin' Records, Electric Music Foundation, and Analog. Fresh had a minor hit record in the UK, "Badder Badder Schwing" (featuring Fatboy Slim), which peaked at number 34 in the UK singles chart in 1999. He has also performed in clubs, as well as festivals, including Glastonbury Festival, Creamfields Festival UK, Reading-Leeds Festival, and Jazz and Groove Festival.
Links to Peel
Peel was a supporter of Freddy Fresh's work and his Howlin' record label. After Peel's death, Freddy Fresh paid tribute to the man on the discogs website:
"I did 2 shows for John Peel one live in the studio at BBC with him and one sent in from Minnesota on a CD. John was one of the chief supporters of my Howlin' record label and is very missed as he was a great guy and incredible icon of a DJ. John personally told me that he had unreleased Beatles Test Pressings that John Lennon personally gave to him that few people in the world even know exist." [1]
Freddy Fresh used many alias names when releasing records, which some of them were played by Peel.
Festive Fifty Entries
Sessions
1. Live from the basement of Yalding House. Recorded & Broadcast: 23 February 1999
2. Recorded from Minnesota. First Broadcast: 20 November 2003
Other Shows Played
Freddie Fresh
Nitrate
02 June 1995: 'Electrolytes (2xLP - Hard Techno Classics From Deepest Germany Vol. 2)' Labworks
17 June 1995 (BFBS): 'Electrolytes (Compilation CD-Hard Techno Classics From Deepest Germany Vol 2)' (Death Becomes Me/Labworks UK)
MPC Genius
See Also
External Links
Community content is available under
CC-BY-SA
unless otherwise noted.