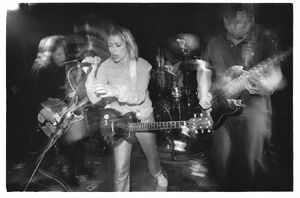 Free Kitten is a supergroup composed of Sonic Youth's Kim Gordon and Pussy Galore's Julie Cafritz. Originally performing under the name Kitten, they changed their name after receiving threats of legal action by a heavy metal singer performing under the same name. Boredoms member Yoshimi P-We eventually took up the task of drumming, and Pavement's Mark Ibold joined later on as bassist. They have released a handful of albums and singles, mainly on label Kill Rock Stars, including a remix 12" featuring DJ Spooky. They toured on 1993's Lollapalooza and took a hiatus between 1997 and 2008.
Links to Peel
Peel first started playing their material in the early 90's and would continue to play their songs until the late 90's, when he didn't play any tracks from their second album, which was released in 1997.
Shows Played
1992
1993
1995
1996
External Links
Community content is available under
CC-BY-SA
unless otherwise noted.