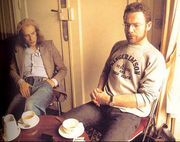 Fripp & Eno is an ambient musical side project composed of Brian Eno and Robert Fripp. The duo have released four studio albums. The music created by this pair is entirely instrumental and has earned mixed critical acclaim. Each release has made extensive use of Frippertronics (a tape looping technique) combined with Fripp's electronic guitar (with subsequent sound treatments by Eno) along with Eno playing various keyboards and synthesizers.  (Read more at wikipedia)
Links to Peel
Both Fripp and Eno had made their Peel session debuts as members of groups who were to go on to greater fame - Fripp was best-known as leader of King Crimson, who did their first Top Gear session in 1969, while Eno was part of Roxy Music, who first appeared in session in 1972.
Peel famously played a Fripp & Eno session backwards, a fact he referred to frequently over the years. Apparently, Eno (even if some sources say it was Fripp) noticed and phoned the BBC, but he was hung up on because the engineers thought it was a joke. Nevertheless, Peel liked the session, calling it magnificent and highly recommended their (No Pussyfooting) album.
Eno later commented on an interview given for Radio 1's "Keeping It Peel" broadcasts to mark the first anniversary of John Peel's death:
"When I first started making music, it was John Peel's shows that inspired me. And then when I did make music, it was John Peel who played it first on the radio. So I have to thank him for my career. I also have to thank him for playing a whole album of mine backwards on the air once ... it was pretty abstract music, but all the same, John, I can't understand how anybody could make that kind of mistake ! Anyway it's all forgiven now and we still love you and we still miss you."
Sessions
One session. No known commercial release, although there is some doubt over the fact that the session was actually a slightly different mix of the "(No Pussyfooting)" album. However, Peel referred to the session as something Fripp & Eno had specifically recorded for his show.
1. Recording date: unknown (private tape). First broadcast: 18 December 1973
Heavenly Music Corporation / Swastika Girls
Other Shows Played
(Please add more information if known.)
See Also
External Links