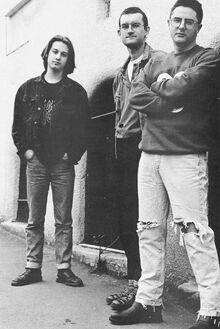 Fudge Tunnel were an English band formed in Nottingham by Alex Newport, David Ryley and Adrian Parkin. They were known for straddling noise rock and metal.
After two singles on Pigboy/Vinyl Solution Records ("Fudge Tunnel" in 1989, "The Sweet Sound of Excess" in 1990), they signed to Nottingham's Earache Records. Their debut album was Hate Songs in E Minor, which attracted a large amount of press interest, after the original album artwork was confiscated by the Nottingham Vice Squad.
Fudge Tunnel's reputation was built around their massive guitar sound and ironic sense of humour, and were popular with the British music press - at least at first. The band's first release was "Single of the Week" in NME magazine in January 1990, with NME declaring "Absolutely and totally the best single ever to be released in 1990. Total nine guitar attack-rock".
The band undertook several European tours in 1991 and 1992 including support slots with Fugazi, Silverfish and The Jesus Lizard, as well as support slots with Swervedriver, Godflesh, and regular performances at popular London venues The Camden Falcon and Camden Underworld.
Two more albums were to follow in 1993 (Creep Diets) and 1994 (The Complicated Futility of Ignorance). Newport also was active with Nailbomb, a collaboration with Max Cavalera (Sepultura), who released one studio album and one live album of their Dynamo Open Air Festival performance. After the release of their third studio album, the band split up.
Links to Peel
According to the band's bandcamp website, the group's Rudge track was possibly the first song they wrote and also their debut track played on John Peel's show:
"If memory serves, and it doesn't always, this was the first song we wrote. Or at least the first that we thought was OK. It's about a local Nottingham character who went by the name 'Axe-Man'. He wasn't nearly as scary as he looked, or sounded. I think it was also the first one that John Peel played on his radio show. We shat our collective pants when that happened, But in a nice way." [1]
It seems the band's premier song on Peels show was the Rudge track, which was played on his 06 November 1989 programme. The band later had further airplay by the DJ and also two sessions for his show before they split up.
Sessions
Tracks 'Sex Mammoth', 'Bed Crumbs' and 'Boston Baby' and all tracks from their 1992 session are available on In A Word released in 1995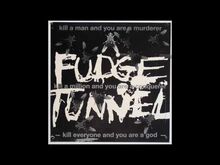 1. Recorded: 1990-04-22. First Broadcast: 21 May 1990. Repeated: 10 July 1990
Sweet Meat / Boston Baby / Bedcrumbs / Sex Mammoth
2. Recorded: 1992-05-21. First Broadcast: 19 June 1992. Repeated: 22 August 1992
Tipper Gore / Ten Percent / Good Kicking / Stuck
Other Shows Played
1990
1991
1992
1993
1994
1995
External Links