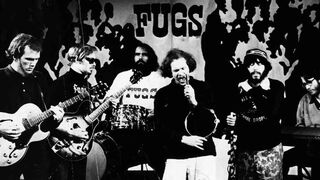 The
Fugs
are a band formed in New York City in mid-1963 by poets Ed Sanders and Tuli Kupferberg, with Ken Weaver on drums. Soon afterward, they were joined by Peter Stampfel and Steve Weber of the Holy Modal Rounders. Kupferberg named the band from a euphemism for "fuck" used in Norman Mailer's novel,
The Naked and the Dead
.
A satirical and self-satirizing rock band with a political slant, they have performed at various war protests – against the Vietnam War and since the 1980s at events around other U.S. involved wars. The band's often frank and humorous lyrics about sex, drugs, and politics have caused a hostile reaction in some quarters, most notably the Federal Bureau of Investigation in the late 1960s. The group is referenced several times in the F.B.I. file on The Doors, where an excerpt mentions eleven songs from The Fugs First Album that are "vulgar and repulsive and are most suggestive." (Read more at Wikipedia.)
Links to Peel
Peel was certainly aware of the Fugs in their late 1960s heyday, even if he didn't often play tracks from them on his shows. The band were associated with underground literary figures such as Allen Ginsberg and William Burroughs, and as such appealed to Peel's International Times colleague Barry Miles, who wrote about them in the paper. Their early LPs on the New York avant-garde label ESP-Disk were available as imports, but were not issued in the UK until 1969 (by Fontana Records). In his first column for International Times, in the August 30, 1967 issue, Peel regretted that British record companies didn't always release the records he liked; there were "obvious yawning gaps in the lists of available West Coast (and elsewhere groups)" [1] - including the Fugs. But even as imports, their albums were judged to be too risqué for radio airplay. Peel referred to this when he reviewed their first LP for Reprise, Tenderness Junction, in the 3 May 1968 edition of International Times:
This is positively church music when compared with "Virgin Fugs". However, it's musically more interesting. I even found a track I could play on the air (called "Fingers of the Sun") but couldn't get clearance on it. The sleeve boasts the nudest Allen Ginsberg. Even if you don't buy the LP you should try to hear it. Their exorcism of the Pentagon is a valuable historical whatever – and may have worked. [2]
The exorcism he mentions contains the chant of "Out, Demons Out", which was adapted by the Edgar Broughton Band and became associated with that band in Britain. The Fugs represented the more anarchic element of the underground, which meant that they had little commercial success, but they were influential. In the 1968 Radio 1 documentary on pop lyrics which Peel presented, The Voice Of Pop, Mick Farren mentioned how their frank lyrics had inspired his own writing, yet when the Listener printed his comments, the band was referred to as "the Thugs"; the mistake emphasising how obscure and "underground" they still were in Britain.
The 1977 New Musical Express Encyclopedia of Rock says they "made offensiveness a fashionable and acceptable commodity in rock" (p.90) and thus influenced the Mothers of Invention, the Stooges and the MC5. Their garage-band approach was copied by British bands like the Deviants and the Pink Fairies and has been seen as a precursor of punk, somewhat overshadowing their pioneering work in combining poetry - ranging from Matthew Arnold and William Blake to the Beat Generation poets and their own work - and rock. They also popularised a quote from Plato's Republic, "When the mode of the music changes, the walls of the city shake" (the title of a track on It Crawled Into My Hand, Honest), which became a slogan of the hippy underground. The band's main spokesman was Ed Sanders, who made a name for himself as a writer and activist and also recorded as a solo artist; Peel played a track from an LP by him in 1970.
Ray Davies of the Kinks was enough of a Fugs fan to invite the band to play at the Meltdown festival he curated in 2011. Four years later, Brian Eno chose their 1968 LP It Crawled Into My Hand, Honest when he visited Peel Acres to make a personal selection of notable discs in Peel's record collection (see Record Boxes: Brian Eno).
Festive Fifty Entries
Sessions
Shows Played
1968
10 July 1968: Exorcising the Evil Spirits from the Pentagon 21st February 1967 (LP : Tenderness Junction) Transatlantic
03 November 1968: Crystal Liason (single) Big T
22 December 1968: Ramses II Is Dead My Love (LP: It Crawled Into My Hand, Honest) Reprise
1970
See Also
External Links
Community content is available under
CC-BY-SA
unless otherwise noted.