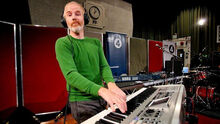 The Funky Ginger is Simon Law, a producer, songwriter and keyboardist currently based in Toronto. As the Funky Ginger, he released a 12" entitled Slaughterhouse (1988) and later did remixes for Duran Duran and Eric B and Rakim, among others. In recent years he has worked with the reformulated version of Soul II Soul.
Links to Peel
Peel played 'Slaughterhouse', from the sole 12" release listed by Discogs under the Funky Ginger name, three times in June 1988. The artist was quickly invited to record what would be his only session, which would be repeated on multiple occasions, including among the best-of-year Festive Fifty Session Broadcasts for 1988.
Sessions
1. Recorded: 1988-07-26. Broadcast: 10 August 1988. Repeated: 30 August 1988, 05 October 1988, 26 December 1988
Money Passion Vice / Jack The Knife / Slaughter House
Other Shows Played
1988
External Links
Community content is available under
CC-BY-SA
unless otherwise noted.