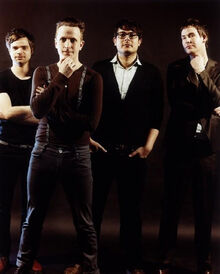 The Futureheads are an English post-punk band from Sunderland, formed in 2000. The band consists of Ross Millard (vocals and guitar), David "Jaff" Craig (vocals and bass guitar) and brothers Barry Hyde (vocals and guitar) and Dave Hyde (drums). Their name comes from the title of The Flaming Lips album Hit to Death in the Future Head. The band's influences include new wave and post-punk bands such as Gang of Four, Devo, XTC, Wire and Fugazi.
The band's biggest hit was in 2005, where they covered Kate Bush's "Hounds of Love", which peaked at number eight in the UK Singles Chart in its first week, and was named Single of the Year by the NME. The group toured the United States with Franz Ferdinand and later supported the Pixies, Foo Fighters and Snow Patrol.
In 2013, the group split, but reformed in 2019, where they released a single and album.
Links to Peel
Peel was impressed with the band's debut single that he nominated it as one of his singles of the month for February 2003 (Peel's Record Box) and March 2003 (Peel's Record Box). Their follow up single, First Day, was also nominated as one of his singles of the month for June 2003 (Peel's Record Box) and entered in the 2003 Festive Fifty. So impressed with them, that he invited them to do a session for his show in late 2003, where they performed four tracks. In 2004, the band released their debut album, The Futureheads, which also was nominated as Peel's albums of the month for June 2004 (Peel's Record Box).
After Peel's death, singer Barry Hyde paid tribute by stating that the DJ will be sorely missed and he will be for a long time. He also stated that he was a true hero and champion of music. [1]
Festive Fifty Entries
Sessions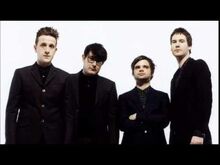 1. Recorded: 2003-09-11. First Broadcast: 01 October 2003
Le Garage / Alms / Robot / The City If Here For You To Use
Other Shows Played
2003
2004
External Links