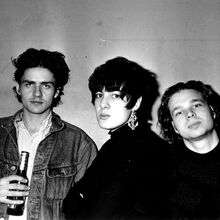 Galaxie 500 was an American alternative rock band that formed in 1987 and split up in 1991 after releasing three albums. Guitarist Dean Wareham, drummer Damon Krukowski and bassist Naomi Yang had met at the Dalton School in New York City in 1981, but began playing together during their time as students at Harvard University. Wareham and Krukowski had formed a series of punk-influenced student bands, before Wareham returned to New York. When he returned in 1987 he and Krukowski formed a new band, with Yang joining the group on bass guitar, the new group deciding on the name Galaxie 500, after a friend's car, a Ford Galaxie 500.
Links to Peel
According to the John Peel Archive website, Peel had a copy of the band's debut album, which was a promo and on the back of that, was a personal handwriting from Brian G., introducing the album.[1] It is not known who is Brian G., but is more likely to have been someone working for a record company.
The debut album, released in 1988, got some tracks played by Peel in 1989 on his shows, along with the band's second LP, On Fire, and their third album, This Is Our Music, in 1990, before the group split.
Festive Fifty Entries
Sessions
1. Recorded: 1989-09-24. Broadcast: 17 October 1989. Repeated: 23 November 1989
Flowers / Blue Thunder / Decomposing Trees / Don't Let Our Youth Go To Waste
2. Recorded: 1990-10-30. Broadcast: 04 November 1990. Repeated: 26 January 1991
Moonshot / Submission / When Will You Come Home / Final Day
Other Shows Played
1989
1990
1991
06 July 1991: Listen, The Snow Is Falling (album - This Is Our Music) Rough Trade
14 July 1991: Don't Let Our Youth Go To Waste (LP - Today) Shimmy Disc
External Links
Community content is available under
CC-BY-SA
unless otherwise noted.