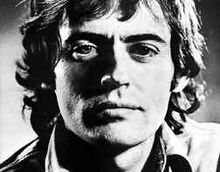 Gary Rhett Shearston (9 January 1939 – 1 July 2013) was an Australian singer and songwriter who was a leading figure of the folk music revival of the 1960s. He was notable as a performer of Australian traditional folk songs in an authentic style. He scored a Top 10 hit in the United Kingdom in 1974 with his cover version of the Cole Porter song "I Get a Kick out of You". (read more at Wikipedia)
Links to Peel
Gary Shearston was among the generation of Australians who moved to London in the 1960s, among them Clive James, Richard Neville, Germaine Greer and Martin Sharp - all of whom were involved with the late-'60s underground culture which Peel espoused. Shearston made little impact during his first sojourn in Britain, however, and moved to the United States. He returned to London in 1972 and soon afterwards recorded the album Dingo, and his only UK hit single "I Get A Kick Out Of You", both of which received airplay on Peel's programmes. The Guardian newspaper's obituary for Shearston states:
The DJ John Peel, a fan, noted that he could "sense the heat and wild friendliness of Australia" in Gary's voice.
Evidence of plays of Shearston's work on Peel shows is scarce, but JP included
Dingo
as one of the albums he was currently listening to, in his
Sounds Playlist
of the week of 2 November 1974.
Festive Fifty Entries
Sessions
Shows Played
(The information below is compiled only from the database of this site and Lorcan's Tracklistings Archive. Please add further details if known.)
11 May 1981: The Light Keeper Of America (Album: Dingo) (Charisma)
See Also
External Links
Community content is available under
CC-BY-SA
unless otherwise noted.