Germany (German: Deutschland), officially the Federal Republic of Germany (German: Bundesrepublik Deutschland) is a federal parliamentary republic in central-west Europe. It includes 16 constituent states, covers an area of 357,021 square kilometres (137,847 sq mi), and has a largely temperate seasonal climate. Its capital and largest city is Berlin. With about 81.8 million inhabitants, Germany is the most populous member state of the European Union.
In 1871 most of the German states unified into the Prussian-dominated German Empire. After World War I and the German Revolution of 1918–1919, the Empire was replaced by the parliamentary Weimar Republic. The establishment of the national socialist dictatorship in 1933 led to World War II and systematic genocide. After a period of Allied occupation, two German states were founded: the Federal Republic of Germany and the German Democratic Republic. In 1990, the country was reunified. (Read more at Wikipedia.)
Links To Peel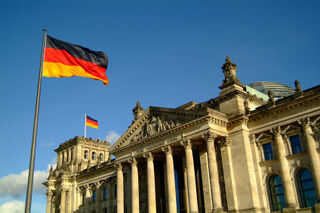 Peel's formative first experience of rock & roll arrived from West Germany when he was 16, in the form of 'Rip It Up' by Little Richard, "drifting over the airwaves rather indistinctly from American Forces Network, Stuttgart."[1]
During his time on Radio London, Peel's shows attracted listeners from Germany,[2] and this continued throughout his BBC career.[3] Peel maintained a close connection with Germany through his broadcasts on BFBS, BBC World Service and various German radio stations including FSK, as well as by regular personal visits. One perhaps unexpected result of his locally heard shows – all in English[4] – was that he often finished high in German polls for top radio DJ.[2] In October 1992, he presented his Radio One show live from Berlin as part of a public service campaign for young people on work and travel in the EU.[5]
The country was also a regular source of music for Peel, from the first "krautrock" and "kosmische musik" records of the 1970s until the 2000s. German band Freiwillige Selbstkontrolle (FSK) did seven Peel sessions between 1985 and 2004, the most by any overseas artist. German music played by Peel came to have a major influence on many session artists,[6] with David Bowie, Eno, Birthday Party and Kevin Coyne among those who spent extended periods in the country. Less happily, in the punk era, Peel spoke out against the "unpleasant flirtation" with Nazi imagery of some UK performers.[3] In October 1998, a special live techno DJ night was arranged at Maida Vale to celebrate 100 releases on Berlin's Tresor label.[7]
As Peel recalled in the 1996 TV documentary Travels With My Camera: Autobahn Blues, his first direct contact with German people went back to his childhood and the prisoners of war who worked on farms near his home on Merseyside[8]:
"They were always really nice to my brother and me, yet there we were in Cheshire while our father was tussling with "the Hun" in North Africa. We were taught to hate Germans – still are by some politicians – but I couldn't really believe in the wickedness of an entire nation. So years ago, when I was asked to do radio programmes here, it seemed like a chance to make a small contribution to a healing process."
His fondness for Germany is apparent elsewhere in the programme, as he travels around the country in his old Mercedes from Hanover to Berlin, visiting old friends and sites including Colditz Castle. Around the same time, Peel was interviewed by German TV documentary makers for Störung Ost, whilst travelling on a boat trip up the Spree river with former East German punks. In the 1983 NME feature Portrait Of The Artist As A Consumer, he had listed Berlin among his favourite places, alongside Liverpool and Norwich.
After Peel's death, German label Trikont released The Pig's Big 78s: A Beginner's Guide, a compilation of vintage records played on his Radio One shows. A German edition of his Margrave Of The Marshes autobiography, translated by Christoph Hahn, was published in 2006.
Sessions
(Main article: Germany: Sessions)
Festive Fifty 
The following artists from Germany had Festive Fifty entries for the John Peel Show:
See Also
Links
References
Community content is available under
CC-BY-SA
unless otherwise noted.