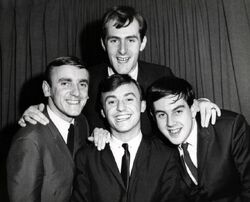 Gerry And The Pacemakers were an English beat group prominent in the 1960s Merseybeat scene. In common with the Beatles, they came from Liverpool, were managed by Brian Epstein, and were recorded by George Martin. They are most remembered for being the first act to reach number one in the UK Singles Chart with their first three single releases: "How Do You Do It?", "I Like It" and "You'll Never Walk Alone". This record was not equalled for 20 years, until the mid-1980s success of fellow Liverpool band Frankie Goes to Hollywood. Another of their most famous songs, "Ferry Cross the Mersey", refers to the River Mersey, which flows past Liverpool.
Gerry Marsden formed the group in 1959 with his brother Fred, Les Chadwick, and Arthur McMahon. They rivalled the Beatles early in their career, playing in the same areas of Hamburg and Liverpool. McMahon (known as Arthur Mack) was replaced on piano by Les Maguire around 1961. The group's original name was Gerry Marsden and the Mars Bars, but they were forced to change this when the Mars Company, producers of the chocolate Mars Bar, complained.
In January 2021, singer Gerry Marsden died at the Arrowe Park Hospital, Wirral, England at the age of 78 following a heart infection.
Links to Peel
The band's cover of You'll Never Walk Alone, originally written for the 1945 Rodgers and Hammerstein musical Carousel, was adopted by Liverpool football club fans on the Kop terrace shortly after the song reached number one in the UK charts in 1963. As a keen Liverpool football supporter, Peel was a great fan of the song and would often play it on his shows, especially in a version by the "Kop Choir", as well as covers by the Pacemakers and many other artists.
The Pacemakers did a session for Peel in 1973, which producer John Walters described as representing 'one of Peel's funny periods'. The set showcased vintage material from the 60's and did not include any new songs.
Although Peel tended to prefer other Liverpool groups of the Merseybeat era, he did play a cover by the Pacemakers of Arthur Alexander's Shot Of Rhythm & Blues, as well as later cover versions of their original songs, by the Rezillos, Frankie Goes To Hollywood and others.
Sessions
1. Recorded: 1973-04-17. First Broadcast: 24 April 1973. Repeated: 10 July 1982
Ferry Cross The Mersey / How Do You Do It / You'll Never Walk Alone
Other Shows Played
23 June 1972: A Shot Of Rhythm & Blues (LP – How Do You Like It) EMI Columbia
1981
1983
1999
2004
See Also
External Links
Community content is available under
CC-BY-SA
unless otherwise noted.