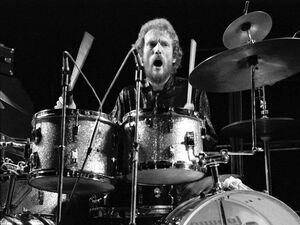 Peter Edward "Ginger" Baker (19 August 1939 - 6 October 2019) was an English drummer and the founder of the rock band Cream. His work in the 1960s earned him praise as "rock's first superstar drummer," although his individual style melded a jazz background with his interest in African rhythms. Baker is credited as a pioneer of drumming in genres like jazz fusion, heavy metal and world music.
Baker began playing drums at age 15, and later took lessons from Phil Seamen. In the 1960s, he joined Blues Incorporated, where he met bassist Jack Bruce. The two clashed often, but would be rhythm section partners again in the Graham Bond Organisation and Cream, the latter of which Baker co-founded with Eric Clapton in 1966. Cream achieved worldwide success but lasted only until 1968, in part due to Baker's and Bruce's volatile relationship. After briefly working with Clapton in Blind Faith and leading Ginger Baker's Air Force, Baker spent several years in the 1970s living and recording in Africa, often with Fela Kuti, in pursuit of his long-time interest in African music. Among Baker's other collaborations are his work with Gary Moore, Masters Of Reality, Public Image Ltd, Atomic Rooster, Bill Laswell, jazz bassist Charlie Haden, jazz guitarist Bill Frisell, and another personally led effort, Ginger Baker's Energy.
Baker's drumming attracted attention for his style, showmanship, and use of two bass drums instead of the conventional one. In his early days, he performed lengthy drum solos, most notably in the Cream song "Toad", one of the earliest recorded examples in rock music. Baker was an inductee of the Rock and Roll Hall of Fame as a member of Cream, of the Modern Drummer Hall of Fame in 2008, and of the Classic Drummer Hall of Fame in 2016.
Links To Peel
On 28 February 1970, Peel played a favourite record from his youth - a 1958 track from Terry Lightfoot's Jazzmen featuring Ginger Baker, who had spent years on the British jazz scene before finding fame with Cream.
Peel closely followed the career of Cream, as well as subsequent bands led by or including the celebrated drummer. Among them was his big band "supergroup" of 1970-71, Ginger Baker's Air Force, which featured many well-known names from the 1960s rock and jazz scenes, including his former bandleader Graham Bond. In May 1970 Peel hosted the first day of the Hollywood Music Festival, near Newcastle under Lyme, Staffordshire, and Air Force were one of the acts he introduced[1].
In 1973 Ginger Baker returned to the UK from Nigeria, resulting in a BBC TV Omnibus documentary called 'Ginger Baker In Africa', which followed his travels across the continent to explore its music.[2] Around the same time, he gave Peel a series of African sessions recorded at his recording studio in Nigeria, which were broadcast on Sounds Of The Seventies as the 'Lagos Sessions' throughout July of that year. [3]
Discussing drum solos on his 02 May 2002 show, Peel related a story involving Baker:
"I remember doing a gig once with Cream - compering a gig actually - with the Bonzos, Viv Stanshall and the Bonzos, and Cream at the Saville Theatre in London. Obviously this is a very old time story, but at the same time Ginger Baker did I think a twenty-two minute long drum solo which was just so tedious that I actually asked the stage manager whether we ought to just switch all the equipment off and go home. Good thing we didn't, because he was quite a truculent fellow as I recall."
Sessions
Baker Gurvitz Army
1. Recorded: 1975-01-15. Broadcast: 23 January 1975. Repeated: 27 March 1975
Help Me / Inside Of Me / Memory Lane
Shows Played
16 May 1970: Da Da Man (2xLP – Ginger Baker's Air Force) Polydor
Baker Gurvitz Army
External Links
Community content is available under
CC-BY-SA
unless otherwise noted.