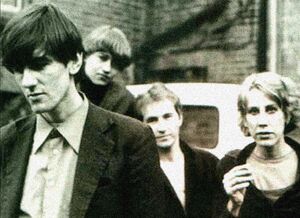 The Go-Betweens were an indie rock band formed in Brisbane, Queensland, Australia in 1977. The band was co-founded and led by singer-songwriters and guitarists Robert Forster and Grant McLennan, who were its only constant members throughout its existence. Drummer Lindy Morrison joined the band in 1980, and its lineup would later expand to include bass guitarist Robert Vickers and multi-instrumentalist Amanda Brown. Vickers was replaced by John Willsteed in 1987, and the quintet lineup remained in place until the band split two years later. Forster and McLennan reformed the band in 2000 with a new lineup that did not include any previous personnel aside from them. McLennan died on 6 May 2006 of a heart attack and The Go-Betweens disbanded again. In 2010, a toll bridge in their native Brisbane was renamed the Go Between Bridge after them.
Links to Peel
According to Robert Forster's auto-biography, Grant & I: Inside and Outside the Go-Betweens, Peel played the band's debut single in the late 70's, which Edwyn Collins and Postcard record label co-founder, Alan Horne, heard on the radio and liked. They then invited the Go-Betweens, who at that time were in London, to Glasgow, Scotland to get signed to Postcard records. [1] Later on, the group started to get more airplay by Peel and they did three sessions for his show. These sessions got the attention of record labels, such as Rough Trade and Sire, who signed them on. By the end of the 80's, the group disbanded and reformed in 2000, with little fanfare from Peel, who never played any of their new material on his shows.
Sessions
1. Recorded: 1982-07-14. Broadcast: 05 August 1982. Repeated: 23 August 1982
Near The Chimney / Metal And Shells / Ask / A Peaceful Wreck
2. Recorded: 1983-12-10. Broadcast: 05 January 1984
Bachelor Kisses / Part Company / The Old Way Out Is Now The New Way In / Just A King In Mirrors
3. Recorded: 1984-10-21. Broadcast: 29 October 1984. Repeated: 13 November 1984, 05 December 1984
The Power That I Now Have / Secondhand Furniture / Five Words / Rare Breed
Other Shows Played
1978
1981
1982
1983
1984
1986
1987
1999
Others
See Also
External Links
Community content is available under
CC-BY-SA
unless otherwise noted.