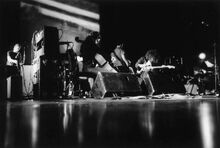 Godspeed You! Black Emperor is a Canadian experimental music collective which originated in Montreal, Quebec in 1994. The band took its name from God Speed You! Black Emperor, a 1976 Japanese black-and-white documentary by director Mitsuo Yanagimachi, which follows the exploits of a Japanese biker gang, the Black Emperors. The collective releases recordings through Constellation, an independent record label also located in Montreal. After the release of their debut album in 1997, the group toured regularly from 1998 to 2003. Their second album, 2000's Lift Your Skinny Fists Like Antennas to Heaven, received great critical acclaim and has been named as one of the best albums of the decade. In 2003, the band announced an indefinite hiatus in order for members to pursue other musical interests. In the intervening period, the group was occasionally rumored to have broken up, but finally reconvened for a tour which began in late 2010. Since reforming, they have released four more albums, the most recent being G_d's Pee at State's End! in April 2021.
Links to Peel
Peel seemed to have discovered the collective in 1998, but didn't play tracks from them during that year, possibly due to their extreme length of their songs on their debut album lasting more than 15 minutes long each. It was only until near the end of the year that Peel invited the group to do a session for his programme, which they did, where they performed one song, Hungover As The Queen In Maida Vale (introduced by Peel as "Hungover As the Oven..."). The whole song lasted for 18 minutes, making it one of the longest session tracks made on his show. The session track later entered in the 1999 Festive Fifty.
Festive Fifty Entries
Peel's Era
Post-Peel
Sessions
1. Recorded: 1998-11-22. First Broadcast: 19 January 1999
Hungover As The Oven At Maida Vale
Other Shows Played
2000
19 September 2000: 'Gathering Storm (LP-Levez Vos Skinny Fists Comme Antennas To Heaven)' (Kranky)
2002
External Links
Community content is available under
CC-BY-SA
unless otherwise noted.