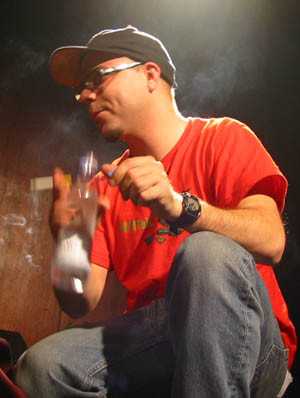 Gold Chains
is the pseudonym of house/hip hop artist Christopher Lafata (1973- ) from Reading in Pennsylvania. AllMusic describes him as
"a hip-hop hooligan for the indie rock crowd...hardly the equal of Def Jam or Rawkus...still, he's a talented rapper and producer."
He kept on performing while at college in Connecticut, and broadened his interests to include playing with a live hip-hop act. Lafata also bought a four-track, along with sampler and drum machine, and began recording his own tracks. One of his first productions was a tape called Gold Chains: Music for a Higher Society, which contributed his performing name by the time he started doing shows in San Francisco. Support gigs for Kit Clayton and Kid 606 paid major dividends; his first wide release, Gold Chains EP, appeared on Clayton's Orthlorng Musork label in late 2001, and his second, Straight From Your Radio (another EP), was issued by Kid 606's Tigerbeat6.
Lafata moved to San Francisco in 1995: twenty years later, a massive four-alarm fire in San Francisco's Mission District left one person dead and six injured. Along with the offices of nearby nonprofit Mission Local, the blaze completely destroyed LaFata's apartment of 18 years, all his belongings and gear, and the studio in which he recorded Gold Chains material.
Links to Peel
Straight From Your Radio, in addition to gaining consistent Peel airplay, was chosen for the June 2002 (Peel's Record Box).
Festive Fifty Entries
Sessions
Other Shows Played
External Links