Great Finborough is a civil parish and rural village of 808 at the 2011 Census in Suffolk, England; about 3 miles (4.8 km) south west of Stowmarket and near one of the sources of the River Gipping. It has two schools, a pub and St Andrew's Church. The Bog Race is a key part of village life. It happens on Easter Monday every year. It is a battle between Haughley and Great Finborough. The race starts at the pub, The Chestnut Horse, where 15 or so men from Haughley and Great Finborough get considerably drunk and are taken to a nearby farm, Boyton Hall, where they have to race over the fields, about a mile, to get to the pub with the scroll. The first man at the pub with the scroll wins and is declared the winner over-all and then, that village has won for that year.
Links To Peel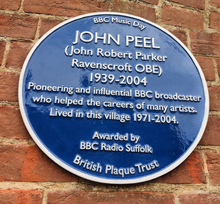 Peel and Sheila moved to their cottage in Great Finborough in 1969 and affectionately called it Peel Acres. During their time there, the couple involved themselves in social activities in the village. In 1972 they created the Great Finborough International Airport, a youth club for the village's young people who otherwise had very little to do after school or at weekends. The club lasted until 1978, when the couple had too much going on in their lives to devote the time for it. After Peel's death in 2004, his body was buried at St Andrew's Church in the village near to his home.
In June 2017, Peel was honoured with a blue plaque outside The Village Hall in Great Finborough in recognition of his contribution to the music industry. Peel's blue plaque was one of 47 unveiled across the country to mark BBC Music Day [1].
External Links
Community content is available under
CC-BY-SA
unless otherwise noted.