Greece (Greek: Ελλάδα), officially the Hellenic Republic (Greek: Ελληνική Δημοκρατία Ellīnikī́ Dīmokratía), also known since ancient times as Hellas (Ancient Greek: Ἑλλάς Ellás) is a country located in southeastern Europe. According to the 2015 census, Greece's population is approximately 10.9 million. Athens is the nation's capital and largest city, followed by Thessaloniki. Greece is strategically located at the crossroads of Europe, Asia, and Africa. Situated on the southern tip of the Balkan peninsula, it shares land borders with Albania to the northwest, the Republic of Macedonia and Bulgaria to the north and Turkey to the northeast. Greece consists of nine geographic regions: Macedonia, Central Greece, the Peloponnese, Thessaly, Epirus, the Aegean Islands (including the Dodecanese and Cyclades), Thrace, Crete, and the Ionian Islands.
Links To Peel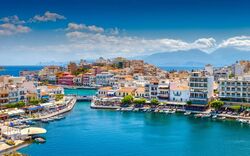 Peel visited the Greek island of Crete in 1985 as part of his family holiday and brought back some Greek records, which he played on his shows, one of them included, Vasilis Skoulas, whose song Madares Mou Haniotikes, was a choice for Desert Island Discs should he be asked to appear on it: however, when he was invited to appear on the programme in 1990, he seemed to have forgotten about this. On the 25 June 1985 show, Peel once again nominated the track as his current favourite record of the year: it is not known whether at the end of 1985, it was still his favourite.
Sessions
Festive Fifty
See Also
External Links
Community content is available under
CC-BY-SA
unless otherwise noted.