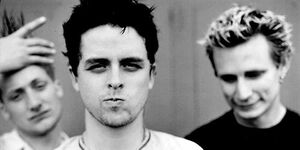 "Another obscure American release...don't know where they come from at all: there's nothing on the record to indicate. It's somewhere in the United States Of America, but the singer has a most peculiar accent." [1]
Green Day
is an American pop punk band formed in 1987. The band consists of lead vocalist and guitarist Billie Joe Armstrong, bassist and backing vocalist Mike Dirnt, drummer Tré Cool and guitarist and backing vocalist Jason White, who became a full member after playing in the band as a session and touring guitarist for 13 years.  Green Day was originally part of the punk scene at 924 Gilman Street in Berkeley, California. The band's early releases were from the independent record label Lookout! Records. In 1994, its major label debut Dookie, released through Reprise Records, became a breakout success and eventually sold over 10 million copies in the U.S. Green Day was widely credited, along with other bands, with popularising and reviving mainstream interest in punk in the United States.
Links To Peel
Peel played some of the band's material in the early 90's, but, as with many pop-punk bands in the later stages of the 90's who became popular, he wasn't keen on their material and did not play any of their successful album tracks.
Shows Played
1990
1992
External Links