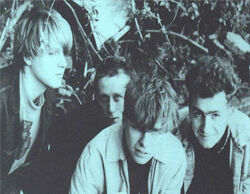 Groove Farm are an indie based English band formed in 1986 as part of the C-86 movement, originally comprised of singer/guitarist Andrew Jarrett, guitarist Jon Kent, bassist Rupert Taylor, and drummer Jez Butler. Founding their own label, Raving Pop Blast!, Groove Farm released a handful of 7"s and 12" EPs as well as the full-length Plug (The Story of Pop So Far) between 1987 and 1990. Also signed with the Subway Organisation label, the quartet released the Alvin Is King! LP along with a variety of vinyl releases, but creative differences and financial strains led them back on the D.I.Y. track. The band have also reformed on numerous occasions.
Links To Peel
Gaining fans like Clare Wadd (who would later co-found Sarah Records) and JP, the Groove Farm were covered extensively in the British fanzine press in the 80's, with their song "Baby Blue Marine" issued as a flexi-disc for Kvatch. Following the breakup of the band, Jarrett formed Beatnik Filmstars, where Peel continued being fan of his work. A reformed version of the group finally cracked the Festive Fifty in 2018.
Festive Fifty Entries
Post-Peel
Shows Played
1987
02 February 1987: It Always Rains On Sunday (7" - Sore Heads And Happy Hearts EP) Raving Pop Blast!
1988
1989
1990
External Links
Community content is available under
CC-BY-SA
unless otherwise noted.