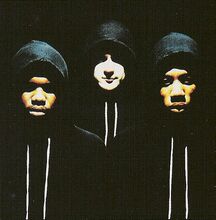 Gunshot is a British hip hop group, formed by MC Mercury, MC Alkaline, Q-Roc, DJ White Child Rix and DJ/MC Barry Blue in the area of Leyton in east London, around 1988/1989. They were originally called Sudden Impact. They released their debut single "Battle Creek Brawl" (Vinyl Solution, 1990) to some acclaim, which was followed swiftly by the single "No Sell Out/Crime Story" (Vinyl Solution, 1991). Both singles were well received within the hip hop scene, but following this release Q-Roc left the group to join Son of Noise under the name Curoc. Mercury, Alkaline and White Child Rix continued with the group, releasing a succession of singles in 1991/1992, that soon cemented them a place as one of the leaders of the UK hip hop scene. Their style was hardcore and fast, quickly coming to be considered the defining style of the genre.
(Read more on Wikipedia)
Links to Peel
Peel played the group's debut single, Battle Creek Brawl in 1990 and a year later invited them to do a session for his programme, in which they performed four tracks. He later played more material from the group in the early 90's and praised them in Interzone magazine in January 1994 describing them as quite opposite to the American hip hop artists who were taken over by big record companies and commercialised:
"It seems that by and large rap in America has been taken over by big record companies and become commercialised. Also it's very sexist while UK rap like Credit To The Nation and Gunshot are quite the opposite." [1]
Around the same time, the group did their second Peel session, but after 1994, it seems JP lost interest in them.
Sessions
1. Recorded: 1991-04-21. First Broadcast: 18 May 1991. Repeated: 27 July 1991
Construct/Destruct / Bullets Entering Chest / To Those Who Deserve It / Gunshot's History
2. Recorded: 1994-01-04. First Broadcast: 05 February 1994
Social Psychotics / Mind Of A Razor / Lockdown / Colour Code
Other Shows Played
1991
1992
1993
1994
External Links