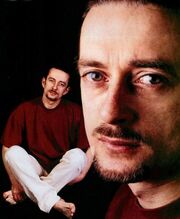 H-Foundation is the pseudonym name of James Harrigan, a Scottish DJ/Producer, who has played house music since the 80's. Harrigan has made house music through various pseudonyms and worked with other Scottish DJ's, recently with Domenic Cappello, under the name of Subculture.
Harrigan's son, Jasper James, is also a DJ and has released several singles since 2014. He also has a Soundcloud account, where he has uploaded his mixes.
H-Foundation is not to be confused with an American group of the same name consisting of Eric Galaviz and Brian Varga.
Links to Peel
Peel was very fond of H-Foundation's Laika track, which was one of his favourite songs of 1994. The track was included in Peel's Festive Ten for that year and also made it into the 1994 Festive Fifty. No other material from H-Foundation or his pseudonyms were played on JP's shows.
In a 2013 interview, son Jasper James was asked about his father's musical influences:
"Listening to the radio, John Peel (I think), and hearing Reggae for the first time in the bath and jumping out to find out what the hell that music was being played. Digging through his friend's big brother's record collection and being amazed at some of the music." [1]
In the same interview, Jasper James was also asked if his dad ever mentioned that one of his tracks appeared in 'John Peel's top 50':
"I am sure he said to me, his proudest moment was when I played Subculture with him a few years back (he was probably pissed) yes; he's mentioned it, never stops telling me!" [2]
Festive Fifty Entries
Shows Played
External Links
Community content is available under
CC-BY-SA
unless otherwise noted.