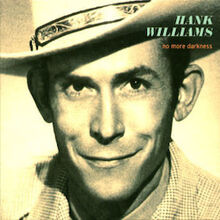 Hiram "Hank" Williams (September 17, 1923 – January 1, 1953) was an American singer-songwriter and musician. Regarded as one of the most significant and influential American singers and songwriters of the 20th century, Williams recorded 35 singles (five released posthumously) that reached the Top 10 of the Billboard Country & Western Best Sellers chart, including 11 that ranked number one (three posthumously).
Years of back pain, alcoholism and prescription drug abuse severely compromised his health. In 1952 he divorced and was dismissed by the Grand Ole Opry because of his unreliability and alcohol abuse. On New Year's Day 1953, he died suddenly while traveling to a concert in Canton, Ohio, at the age of 29. Despite his brief life, Williams is one of the most celebrated and influential popular musicians of the 20th century, especially in country music.
Many artists covered songs Williams wrote and recorded. He influenced Elvis Presley, Johnny Cash, Chuck Berry, Jerry Lee Lewis, Bob Dylan, and The Rolling Stones, among others. Williams was inducted into the Country Music Hall of Fame (1961), the Songwriters Hall of Fame (1970), and the Rock and Roll Hall of Fame (1987).
(Read more at Wikipedia.)
Links To Peel
"When I was a young lad ... there used to be a chart published in the Liverpool Echo every Saturday ... Liverpool's top three.... It seemed to me at the time that Hank Williams was always at number one. And so one afternoon I went into Curry's record shop and bought a Hank Williams record."
  (JP remembers an early country music purchase, 01 March 1992)
With the nearby transatlantic port city of Liverpool a hotbed of country music,[1] the youthful Peel quickly became familiar with the recorded work of Hank Williams, one of its most influential stars, before the arrival of rock and roll in the mid-1950s.
In later decades, the Radio One DJ would return to the music of Williams with increasing frequency, both as a performer and as a writer of songs covered by artists Peel favoured, from the Fall to the Residents. After the turn of the century, vintage shellacs of the country legend were played as part of the Pig's Big 78 feature, as well as numerous tracks from the compilation 'No More Darkness', released in 2003 by German label Trikont to mark the 50th anniversary of the singer's death.
In 2005, the treasured singles found in John Peel's Record Box included a cover of the Hank Williams song 'Ramblin' Man' on a 45 by 2 Star Tabernacle.
Festive Fifty Entries
Sessions
Shows Played
1970s
01 February 1978: Long Gone Lonesome Blues (2xLP - Hank Williams - 40 Greatest Hits) Polydor
01 February 1978: My Son Calls Another Man Daddy (2xLP - Hank Williams - 40 Greatest Hits) Polydor
01 February 1978: Why Don't You Love Me (2xLP - Hank Williams - 40 Greatest Hits) Polydor
1980s
1990s
2000s
Covered
(The list below was compiled only from the Cover Versions page of this site. Please add more information if known.)
Artist | Track | First Known Play
External Links
Community content is available under
CC-BY-SA
unless otherwise noted.